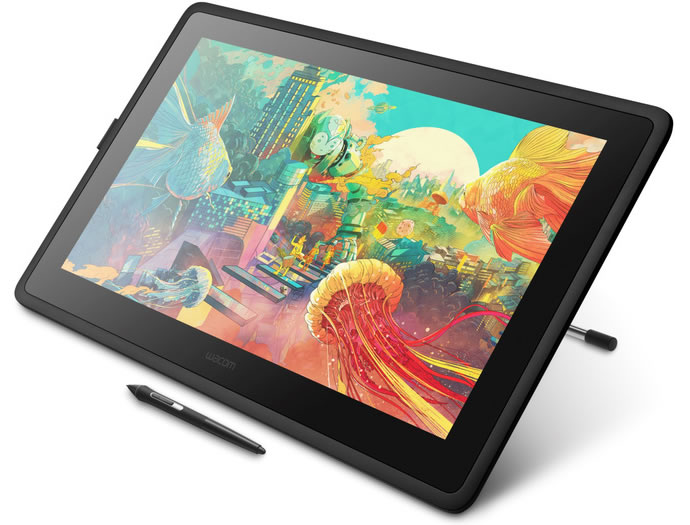 July 18, 2019
Wacom Announces Wacom Cintiq 22 Creative Pen Display for Casual Artists and Professionals alike
by dhiram

Wacom today announced a larger version of its entry-level tablet with the Cintiq 22. Wacom launched Cintiq 16 earlier this year for $649. The Wacom Cintiq 22 tablet has a 21.5-inch screen with full HD resolution for clear details as well as an anti-glare coating with reduced parallax to help minimize distractions and replicate a pen-to-paper-like feel. Its display has a 210 cd/m² brightness rating, 1000:1 static contrast ratio, wide 178° viewing angles, and support for up to 16.7 million colors with 72% NTSC color coverage.



The Cintiq 22 comes with a Wacom Pro Pen 2, a natural and precise stylus that has four times the pressure sensitivity (8192 pressure levels) and accuracy compared to its previous iteration. Furthermore, there's virtually no lag or batteries and recharging required. . It doesn't come with other accessories like the $100 ExpressKey remote or a Bluetooth keyboard. The Wacom Pro Pen 2 is designed for graphical tablets and provides you with smooth and responsive writing or drawing experience.


The Cintiq 22 features 8192 levels of pressure sensitivity; 60° tilt recognition, two side buttons, and virtually lag-free tracking. It's also built with Electro-Magnetic Resonance (EMR) technology for battery-free use. Aside from the Pro Pen 2, a set of accessories are included such as a pen holder, replacement nibs, and a nib removal tool. User can connect the tablet to a Mac or Windows computer via HDMI and USB 2.0 cables. The Cintiq 22 is available at B&H for $1,199.95.