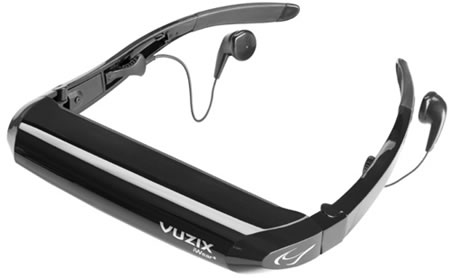 September 17, 2008
Vuzix iWear AV310 Widescreen, The First-Ever Widescreen Personal Video Eyewear
by radhika

Just at a time I'm coping with getting glasses for too much TV exposure, Vuzix comes and announces the iWear AV310 Widescreen, which is a personal video eyewear. Even though we are grown ups, seldom do we adhere to the proper distance norm between seating viewing. Adding to this now eyewear with screens is becoming a fad. All in all I think the optometrists must be funding the companies, after all it good for their business as well. Moving on, the iWear is a true widescreen with 16:9 aspect ratio. It projects a virtual 52′ screen from 9-feet and will run for five full hours on a single AA battery. It offers independent focus adjustment, adjustable earbuds and nosepiece. The system is compatible with all NTSC or PAL devices with a video output.

The Vuzix iWear AV310 Widescreen sells for $249.95.
Compatible devices include:
• All iPod models
• Portable media players
• Video cameras
• Cellular phones with video output
• Gaming consoles
• Digital cameras
• DVD players
The AV310's features include:
• Virtual 52′ screen viewed from 9-feet
• Full 16:9 Widescreen Aspect Ratio
• Independent +2 to -5 diopter focus, providing individual adjustment for each eye
• Twin high-resolution LCD displays from Kopin Corporation
• "Vuzix' 3D" watermark compliant
• Removable and comfort fit earbuds
• Adjustable, hypoallergenic nosepiece
• AccuTilt viewer with 15 degrees of tilt adjustment
• Up to 5 hours of battery life on one AA battery
• On screen display settings control
• For use with or without eyeglasses.