July 9, 2013
Volkswagen's futuristic XL1 redefines frugal cars, returns an unbelievable 262mpg
by Sayan Chakravarty
From a distance Volkswagen's XL1 looks like a vehicle straight out of the movie 'Total Recall'. Squint a little harder but it still looks like one of those concept vehicles on display at the swanky international auto shows. After almost 10 years in development, XL1 has moved ahead from being a concept to a fully operational road legal car. Initially it was named '1-Litre', which strangely does not indicate the displacement capacity of the engine but the number of kilometres it can do using 1 Litre of fuel. XL1 has completely changed the definition of a frugal car, until now Toyota Prius was considered to be the best environment-friendly automobile, but this is on a completely different planet. VW claims it can do 262-mpg or 100 Km for just 0.9 Litres of diesel. Yes, you heard it right; it runs on diesel, which die-hard motoring addicts absolutely detest.


VW recently invited auto journalists from all over the world to have a go in this futuristic vehicle at its headquarters in Wolfsberg, Germany. Strangely, it has elements from the past, present and future all mixed together to make the whole package work seamlessly. Every bit and corner of the car has been engineered to perfection, even at the cost of being a lot different than our everyday cars. But with such frugal statistics, everything else can be happily overlooked.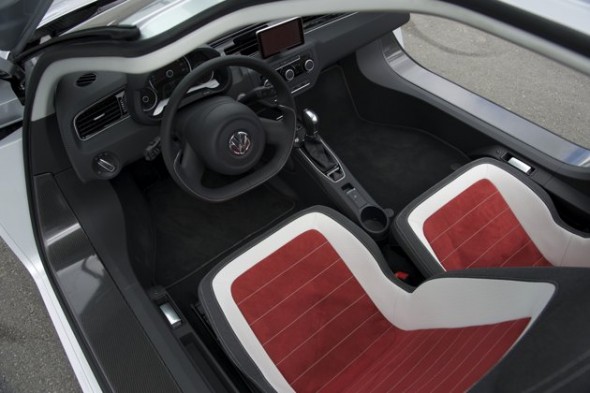 First the good bits of this amazing machine, though XL1 has no intensions of being or challenging a sports car but its gull-wing door and flat bottom steering wheel gives it a sporty feel. The drag coefficient of XL1 is just 0.189 making it the most aerodynamic and slippery car. Despite a 47HP diesel power train and an extra 27HP electric engine, it can do speeds exceeding 140KMph on open roads. To decrease the drag, it doesn't even have OVRM's which is rather substituted with two side cameras providing a better field of vision. But neither does it have a rear window which makes it a little impractical.

What's not so cool about the car is the extreme weight saving measures adopted. It doesn't have power steering and power windows, conventional steering and hand crank windows save quite a bit of unwanted poundage. The wheels are skimpy and lean which adds to its efficiency. And the diesel engine as expected doesn't sound good either.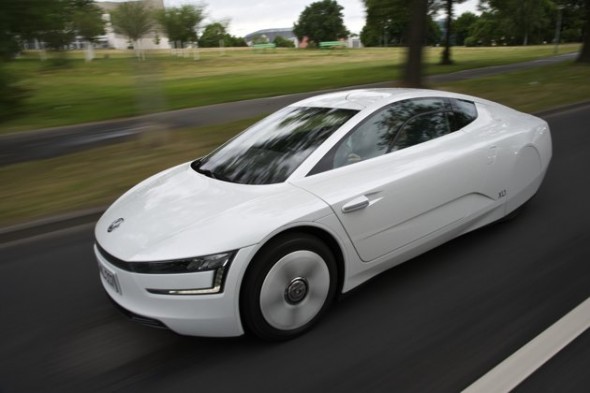 It weighs just 1753 lbs thanks to all the crazy weight saving measures and a one piece carbon fibre Monocoque chassis. The electric motor gives XL1 a range of 31 miles and a nifty 2.8 Gallon tank can power the car for another 310 miles. VW has just made 50 of these and plans to make 250 XL1's in total. Will the cars look like this in the future? In all probability yes, cars will get smaller and greener. The regulations are pushing for heavily restricted vehicles, no surprise all the supercar makers' showcased hybrid racers this year. But as of now, this shiny looks better in a museum than on roads.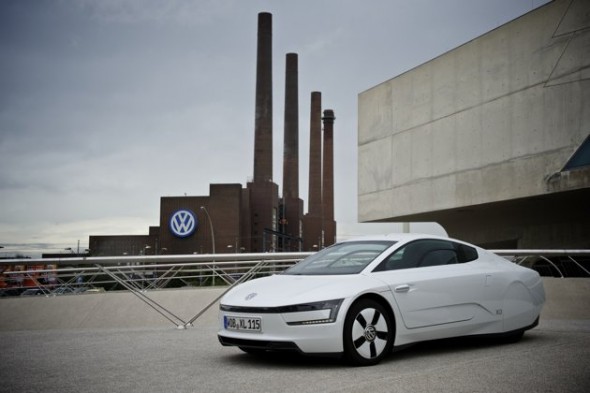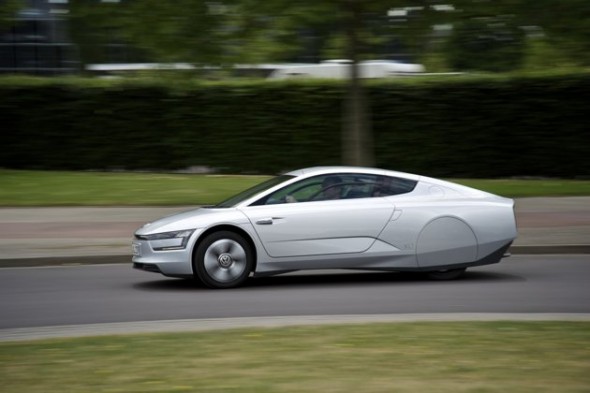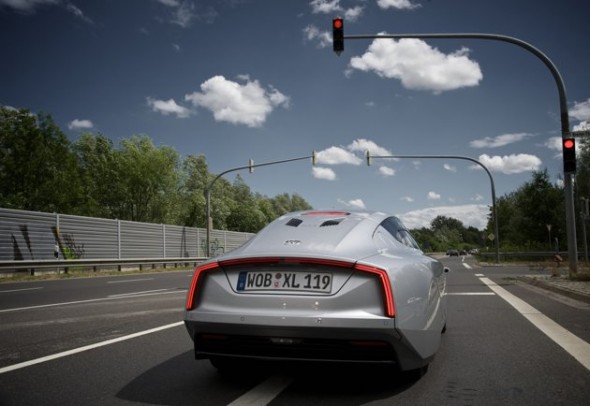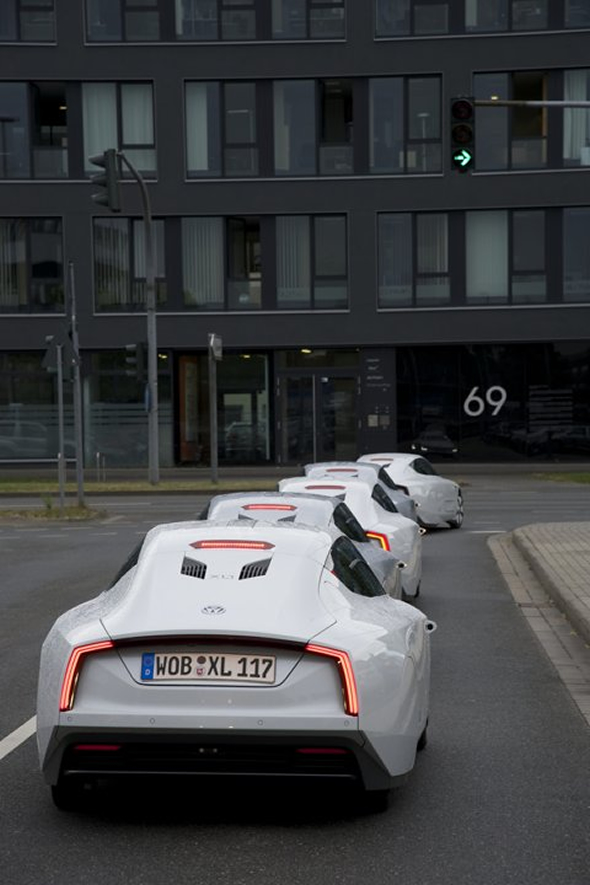 [Via – Yahoo]