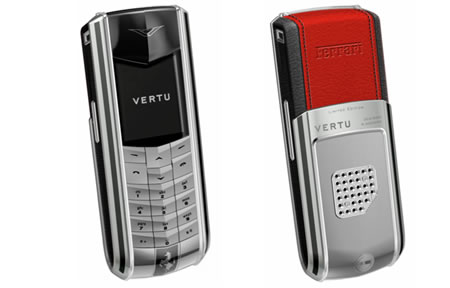 4 comments
March 28, 2007
Vertu Ascent Ferrari 1947 Limited Edition unveiled
by Dhiram Shah

Five years ago, Vertu, a Nokia subsidiary, introduced the world's first luxury cell phone. The Vertu Signature became popular with celebs like Gwyneth Paltrow, Madonna, Tom Ford, David Beckham and more. But for mere mortals (like me) the price tag is terrifying. While Signature remains its flagship, Vertu is launching Vertu Ascent Ferrari 1947 Limited Edition, to commemorate Ferrari's 60th Anniversary. Naturally as the name suggests, this Ferrarised Vertu is inspired by the dynamic and stylish Ferrari cars. Echoing this latest edition to the Ferrari GT stable, the phone is encased in symbolic red and black Ferrari leather with black lacquer stripes running at the sides. The bezel nose on the front of the phone features the famed Ferrari Prancing Horse, while on the rear back plate there is a scaled down iconic Ferrari brake pedal, crafted from high-graded aluminum, like that used in Ferrari cars. Exclusively handcrafted in U.K, each piece is individually serialised 1 to 1947 – paying homage to the very year when the first car to bear the Prancing Horse marque was built by the founder, Enzo Ferrari. The case is equally complementing as it is designed from Ferrari red & black leather.

This Ascent Ferrari 1947 Limited Edition can be picked from Vertu stores from July onwards. The pricing is yet a mystery.
Via – Luxurylaunches
Related Entries – Vertu Monaco and Nurburgring conclude the Racetrack Legends series
Vertu Signature Cobra Phones- are you ready for them?