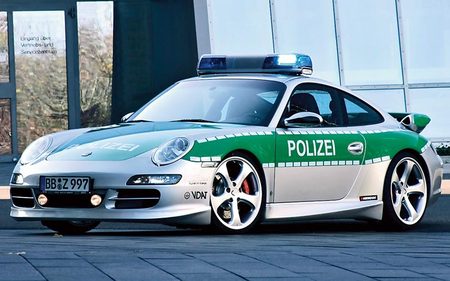 February 28, 2009
Top 5 Cool Police cars
by Dhiram Shah

These five cars break the stereotype of a typical police car. They are sleek, cool and have enough horsepower to get you no matter what.
No 5 – Smart car – Austria
The Smart Car is the best fit to navigate the crowded streets of Austria effortlessly. The compact car can easily cut through corners and with a top speed of 135 km/hr it can end a chase very easily. The Smart car is used by police all over Europe.
(The list continues after the jump)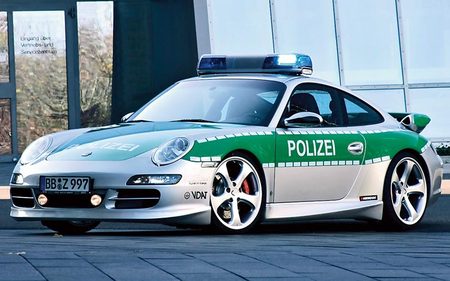 No 4 – Porsche 911 Carrera – Austria
With 325 horses racing under the hood the 911 Carrera has a top speed of 285 km/hr and is one of the fastest sports car around. It has a permanent place at the Porsche museum in Germany.


No 3 – Dodge Charger – USA
Presented at the 2005 New York auto show the Dodge Charger is powered by a 425 hp engine. Used by cops across the 50 states it charges from 0 to 100 km/hr in six seconds flat. A trooper recently stopped a speeding motorcyclist, the chase topped at 233 km/hr.


No 2 – Lamborghini Town Life – Italy
Guarding the streets of Vatican are electric buggies by Lamborghini. The odd named 'Town Life' has a max speed of 40 km/hr and a range of 80 kilometers.


No 1 – Lamborghini Gallardo – Italy
Patrolling the freeways around Rome are these Italian beasts. The Lamborghini Gallardo LP560-4 has a roaring 525 hp engine which zooms it from 0 to 100 km/hr in just 3.7 seconds. The Italian car maker had actually donated this baby to the authorities. Apart from speed this baby packs in an automatic number plate recognition system, a forward looking camera and a vestigial trunk up front trunk for use as a first-response medical platform and refrigerated box for high-speed organ transport.
[Source 2,3,4 and 5]