July 19, 2013
Top 5 new features in Android 4.3 Jelly Bean, the name remains, but features get better
by Shayne Rana
Although there a few minor updates that make it to the bigger handset makers to spruce up their UI's, Android firmware updates take much longer. The wait for these updates can get annoyingly long sometimes and the updates, sometimes, might not really seem al that much. However, I'm looking forward to the next Android update i.e. version 4.3, which is also going to be part of the Jelly Bean version (sorry no Key Lime Pie just yet, they're running out of snacks). Here are 5 reason why I'm eagerly awaiting the 4.3 update for my Nexus 4 –




5. Touch Responsiveness
From initial Beta testing of Android 4.3 on the Nexus 4, it seems there's been an improvement in overall touch sensitivity. This means the response time will be much faster than before making scrolling, swiping and other gestures a little smoother and quicker as well.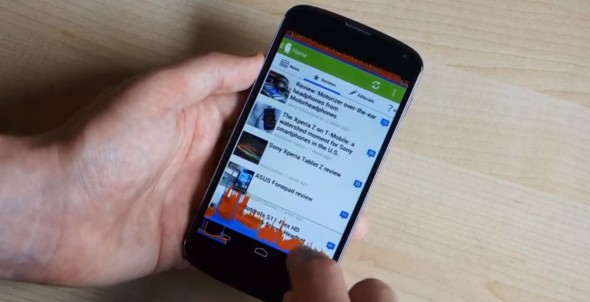 4. Easier for Developers to make better, faster apps+
It's important to take into account the developers as well as without them we'd see far more limited improvements and fewer apps. Thanks to some additions in the 4.3 addition of the OS, developers will find some handy tools to work with that will visually render the speed at which various, apps, functions etc. are running. This will help the developers to tweak apps during testing or provide relevant updates to existing apps to speed up their performance brining you optimised functionality.

3. Updated Camera UI
The camera menu interface has also had a slight alteration. Now when you long press the screen in the camera mode, instead of a circular menu showing it, all the features and settings have been condensed and re-arranged into an arch. This makes accessing these options a lot simpler and easier to use.

2. Dialler auto complete
This might be prevalent in some existing third party UI's like ToucWiz and others who deem to customize the set up, but it will now be part of the native Android Dialler. Now when you start typing a number on the dialler screen, contact options matching the numbers on the screen will pop it. It will also include recently dialled contacts to speed things up. Very handy indeed.

1. Bluetooth LE (Low Energy) support
Finally the addition of Bluetooth LE support will make for a fine adjustment to the OS. As is, in 4.2 for Native OS touting devices and some others, Bluetooth capabilities for third party devices like the Nike Fuel Band and others like that are limited. With native LE support the range of device for the OS in general will be boosted for any and all devices that get the upgrade making it easer to connect to these devices.
[Via – Youtube]