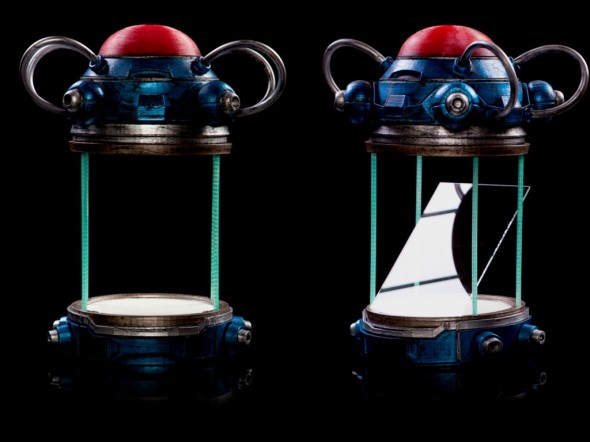 April 9, 2013
The uber cool Mega Man Light Capsule Hologram replica is up for sale
by dhiram
For non Mega Man fans this is the replica of Dr. Light's capsule from Mega Man X and was on display at the Mega Man Boss Battle Tribute show in San Francisco till the 31st of March. Created by Andrew Butterworth the capsule has an actual hologram appear from within, although it is not a real deal but an After Effects animation projected against transparent glass, the effect is very realistic.



"This piece was printed on solid white PLA filament using a replicator 2 from makerbot. It was first modeled in Maya using the original SNES sprite as reference. I got the idea of using the pepper's ghost technique after talking to a friend who has done similar art installations on a much larger scale. Once printing was done, I got to sit down, relax and paint. It reminded me of building model airplanes on my mom's kitchen table. The movie was all taken from a sprite sheet and animated in After Effects. If you get to see the piece in person there is an cool easter egg animation loop. Anyone that has ever played and cleared Mega Man X will get it."
Measuring 16″ x 6″ the artwork is for sale for $3000 at the Gauntlet Gallery.
[Available at Gauntlet Gallery via – Rockman Corner]