November 11, 2016
The new Nissan Leaf is out
by Shilpa Chatterjee

Nissan recently revealed its new LEAF details, saying that now every trim will be equipped with the 30-kWh battery pack, slashing the entry price to get the 107-mile range.
In the 2016 version, the 30-kWh pack was only available in the higher-end LEAF SV and SL versions. However, the same pack, which is supposedly Nissan's best in-class range, is now also fitted into the new LEAF S with the price upped by $1,600. Arguably, this still remains the most economical price to receive the 100-mile plus range.

Additionally, in roughly half an hour, the battery can be quick-charged to 80% right from the low battery charge warning. It is estimated that it should take around six hours to charge on a home charging system (Level 2, 240 Volts) using the 6.6 kW on-board charger.


For ardent EV fans, the new LEAF offering is a tad disappointing as they were hoping for a better battery pack upgrade. However, rumour has it that Nissan will most likely leapfrog the ~40-kWh battery pack and eventually introduce the 60-kWh battery pack that has been on the cards for a while now.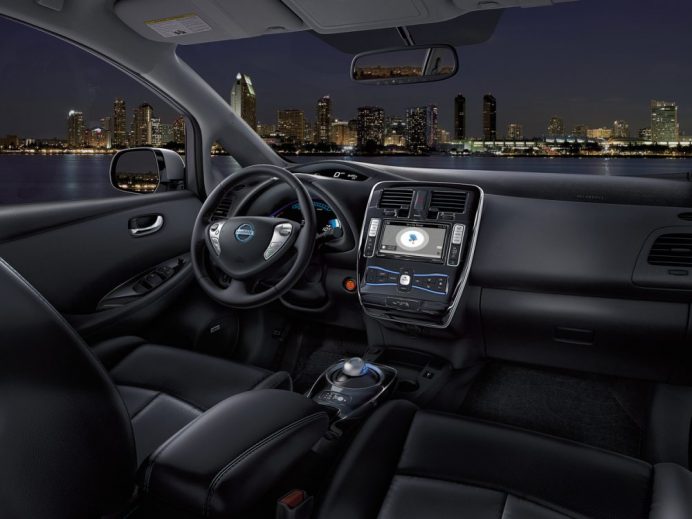 However, it is also true that the currently offered 30-kWh battery design ups the vehicle's capacity without adding bulk to the size of the battery pack. This is primarily because the structure of the laminated lithium-ion battery cells has been largely improved, along with better electrode material with revised chemistry. As a result, it delivers higher power density and offers improved overall battery durability.
The vehicle's exterior is V-shaped with up-slanting halogen headlights. The exterior also showcases a standard rear spoiler, LED tail lights that are aerodynamically shaped, and a flat underbody with a rear diffuser. Standard on all SL models are fog lights and LED low-beam headlights.
As far as the interiors are concerned, there's a digital instrument panel with a power meter, speedometer, battery temperature gauge, drive mode indicator, balance energy gauge, distance-to-empty display and capacity level gauge. The interiors also feature a percentage state-of-charge display. An interesting inclusion in the LEAF SV and SL models is that they exhibit a list of nearby charging stations on the NissanConnect info screen.
These models also include standard NissanConnectSM with navigation, with which, you get a 7-inch colour display with multi-touch control, HD radio, Nissan Voice Recognition for audio and navigation, SiriusXM Traffic and Travel LinkTM for weather, movie listings, fuel prices, stock and sports information. However, the SiriusXM subscription needs to be separately purchased.
Also standard on SV and SL versions is the NissanConnect EV system which allows the user to connect to the vehicle remotely, allowing monitoring of the battery charge level, starting charging event control and switching on heating and AC systems before getting into the vehicle. Safety features include Traction Control System, Vehicle Dynamic Control, four-wheel ABS, and six air bags.
The Manufacturer's Suggested Retail Prices for the Nissan LEAF are $30,680 for the LEAF S, $34,200 for the LEAF SV, and $36,790 for the LEAF SL. Destination and handling charges would amount to $865. Financing options are also readily available, you can learn more about car rates here. The Nissan LEAF has already gone on nationwide sale at LEAF Certified Nissan dealers. As of last month, over 100,000 units of the 100% electric Nissan LEAF have been sold in the US, and more than 238,000 units have been sold in other parts of the world.