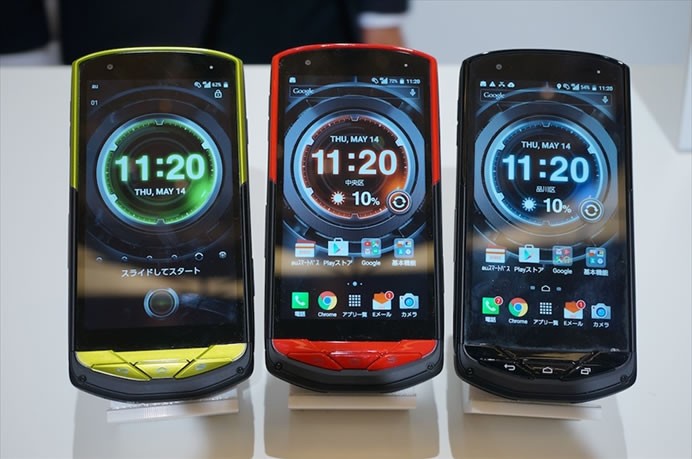 May 14, 2015
The hardcore Kyocera Torque G02 is dust and water proof with a special underwater camera mode
by Shayne Rana
Although Sony may have a slight monopoly on smartphones that can accompany you on underwater expeditions (up to a meter or so anyways) Kyocera is aiming to take top spot with their newly announced KDDI Torque G02 that's been designated as the world's first smartphone that can deal easily handle seawater.


That seems a little too specific seeing as we're not exactly living on Waterworld (yet), nor does a very large population live by the seaside; but if you do and are heading to the beach, this smartphone can follow you into the briny deep and even help you capture some undersea life thanks to the specially designed 13 megapixel camera module to better your skills as an underwater photographer.
The Torque G02 is designed to withstand water pressures at depths to 1.5 meters for 30 minutes. It's water and dust proof to a large extent and has also been tested against impacts to assure its ruggedness. In the specs department the G02 is well equipped and features a 4.7-inches (720p HD) IGZO LCD, a Qualcomm Snapdragon 400 MSM8928 processor (quadcore @ 1.4GHz), 2GB RAM, 16GB internal storage (up to 128GB with memory cards), Bluetooth 4.1, Wi-Fi, NFC and will ship with Android Lollipop (5.1). Aside from the primary 13MP shooter, the G02 also has a 5MP front facing lens.
Like I said earlier, Sony has been producing IPX certified handsets for quite awhile and the Xperia ZR, like the Torque G02, is also IPX5/IPX8 certified, but the latter has also passed US military procurement standards – MIL-STD-810G, and has a total of 21 kinds of endurance specifications making it quite a hardcore handset to behold indeed. It's also stated that the display is fully functional with gloves and even when wet. An added bonus of a fully removable 2910 mAh battery is also worth highlighting.
Personally, I like the style of the G02 which comes off as a sharp looking handset that seems quite capable. It'll be available in early July and come in three color variants – green, red and all black. Pricing is yet to be announced. The company also says that it will ship with a belt clip accessory.
[Source – Translate Google]