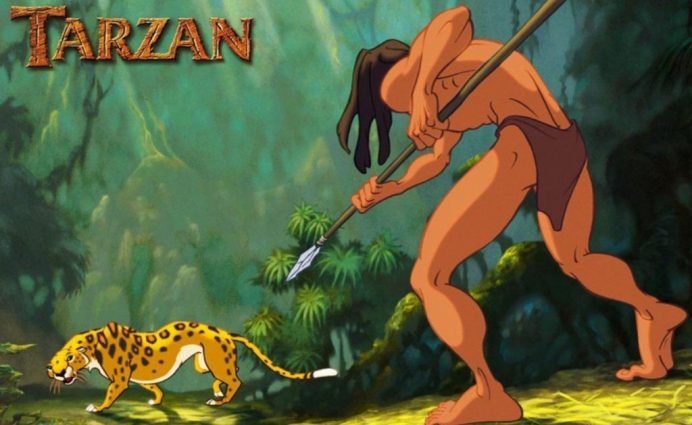 December 30, 2016
Tarzan to Swing By Gaming Portals This Winter
by dhiram

Tarzan is among the most popular characters the 20th century has given us. Since his "birth" in 1912, Tarzan has been featured in over two dozen books, over 200 movies and TV productions, radio plays, comic books, even a Broadway musical. The only medium mostly untouched by Edgar Rice Burroughs' universe was video games – only a handful of games feature the character itself, with most of them only touching his most popular habits, like swinging on vines and his signature cry. This year, John Clayton, Viscount Greystoke – better known by his "stage" name Tarzan – will take a tentative first step into the world of video games, although only in a casual form. This December, the All Slots Casino prepares to launch a new slot machine inspired by his jungle adventures.

Tarzan – the slot machine
Unlike Tarzan's previous appearances in popular culture, the slot machine inspired by his adventures will not be too focused on a story. Instead, it will offer all the casual fun to its players. The game will have five reels, three rows, and numerous bonuses to play for: free spins, cash bonuses, multipliers, and even a jackpot. The Tarzan character that appears in the game is a mix between the original hero, Disney's animated character, and George of the Jungle – it's a game that's supposed to be fun, anyway. Other characters on the reels include Jane (the love of Tarzan's life), an elderly gentleman (probably Jane's father), and Cheeta, Tarzan's closest friend and companion (who didn't appear in any of the original stories). The rest of the symbols are fruit, animals, and bonus symbols.
Like all other slot machines at allslotscasino.com, the upcoming game also has its share of bonuses. Three or more Bonus symbols will take players to the jungle version of a Wheel of Fortune, spun by Tarzan himself, where they can win cash bonuses, free spins, and their likes.
You can try the new Tarzan video slot machine after the 8th of December at the All Slots Casino. The All Slots offer its players not only a massive collection of games but also tons of specials and promotions each month. Its games can be played on a desktop computer or a smartphone alike.
Tarzan – a short biography
Tarzan was born John Clayton III, son of John and Alice (Rutherford) Clayton II, Lord and Lady Greystoke of England. He and his parents are marooned on the western coasts of equatorial Africa. John is born there and raised by his parents until his mother dies, and his father is killed by Kerchak, king of the Ape People. John is adopted by Kala, who he later grows to love as a mother, and given the name Tarzan, which means "White Skin" in the apes' language. Raised by the apes, Tarzan becomes a skilled hunter, but he also teaches himself to read English using the books left behind by his parents. At the age of 20, Tarzan discovers a marooned expedition on the same coast as his parents – the party includes Jane Porter, his later love interest. The rest, as they say, is history.