July 9, 2015
Star Trek Original Series Communicator brought to life with a little Bluetooth tech
by Shayne Rana

Star Trek might very well be the very series that inspired most modern day devices especially the mobile phone and tablet. The iconic Original Series Communicator was, for all intents and purposes, a mobile handset. It was utilized on the show to communicate with other crew members and also as a locator; sound familiar? So when one company decides to take the classic design and actually incorporate today's tech into it, chances are, it's going to get sold out before you can say "Live long and prosper".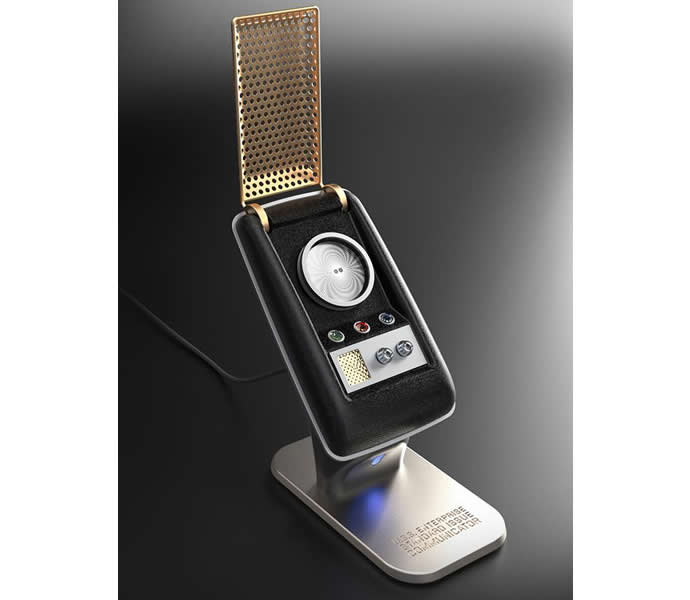 Using die-cast metal and aluminum to create their device, The Wand Company has built a very realistic looking model of the Star Trek original Series Communicator; of course it helps that they used 3D scans of the actual prop from the series to accuracy. The interesting part is that they've thrown in a little Bluetooth tech, a working speaker, mic, wireless charging and voila, a fully functional Star Trek Communicator Bluetooth enabled replica; the perfect accessory for any Trekkie to have.


The Wand Company has become quite popular in the Bluetooth accessory realm as they've been designing and selling Bluetooth devices based on famous props from TV shows – replicas of Doctor Who's Sonic Screwdrivers and the Kymera magic Wand that looks like something out of Harry Potter. They've even done a Star Trek Phaser replica that functions as a universal remote. For the Communicator model, one simply needs pair it with a smartphone, flip the grill when you're getting an incoming call and start your conversation, just like any intrepid USS Enterprise crew member would.
The Bluetooth enabled Star Trek Communicator will make its debut at this year's upcoming San Diego Comic Con. Pricing hasn't been announced yet, but it's not like it would make too much of a difference to the hardcore Trekkie.
[Via – The Wand Company]