12 comments
June 14, 2006
Sony develops smallest LED projector
by Dhiram Shah

Using RGB light emitting diodes (LEDs) as light sources Sony has developed the world's smallest LED projector. Measuring just 410cc it is equivalent to that of two business cards and shorter than a standard ball pen. Two major innovations were made to make the projector smaller. First, three transmissive LCDs serving as display devices and a prism for synthesizing light beams emitted from the three devices are directly coupled together to be a unitary component. Another innovation is that the distance between the LEDs and the display devices are reduced. The projector uses 0.62 inch 800 x 600 transmissive LCDs as display devices. A total of 14 LEDs are used, including four red, four blue and six green diodes. The brightness of the LED reaches 50 lm. The power consumptions required for the LED unit and the entire projector are 20 and 30 W, respectively. A wide color gamut of 120% NTSC can be achieved.

Sony has developed its proprietary screen that can reduce the reflection of external light. When an image is projected onto the new screen to the size of a 20 inch model in the external light with an illuminance of 200 lx, the screen can achieve a white luminance of 292 cd/m2, whereas the most pervasive type of screen can get 58 cd/m2.
Pricing and availability of this little wonder is not known yet.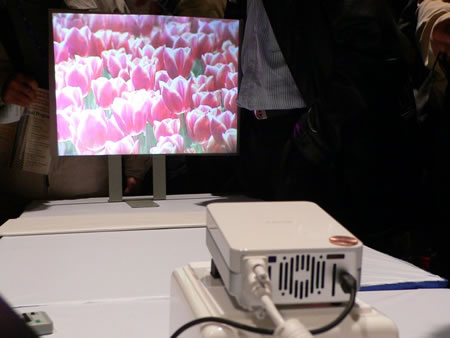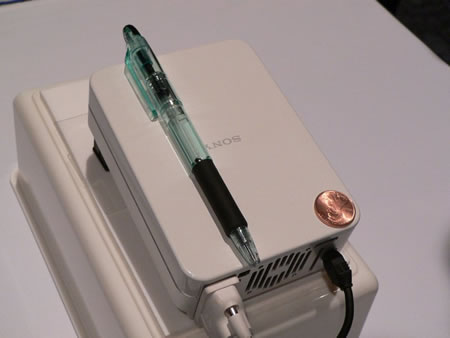 Via – Sony Japan