October 31, 2013
Sony Xperia Z1 Review
by Shayne Rana
Let me start off by saying where Samsung cares more about the user experience with all kinds of user-friendly additions to TouchWiz, Sony seems to be the one who cares about the usability of their phones. And by that, I mean making them water and dust resistant so they can be taken anywhere and used at anytime including underwater. They also went to town on their battery capabilities with STAMINA Mode so there's that. The Xperia Z1's biggest selling point is its 20MP HD camera. As far as I'm concerned, I won't buy a phone just because of its camera pixel count and neither should you. So the kind people at Sony (thank you) lent me a Z1 device so that I might put it through its paces. Here's what I found.


Let's talk design
It's large but not too heavy and just 8.5mm thick with a weight of about 170g. Sony has ensured that with the Z1, size won't hamper its usability and their right – even at this size and width (74mm across) the Z1 is very well balanced just like the Tablet Z and others in the series. It has a sort of sentiment that gives you a decent level of comfort. The 5.0 full HD (1080 x 1920) display comes with all that Sony can throw at you from the new Triluminos display to the X-Reality Engine but all of that only making things a little too bright and the colors somewhat glossy, which in the case of a overly colourful game like Candy Crush Saga, can make your eyes water after awhile. The viewing angels are ok but could have been better.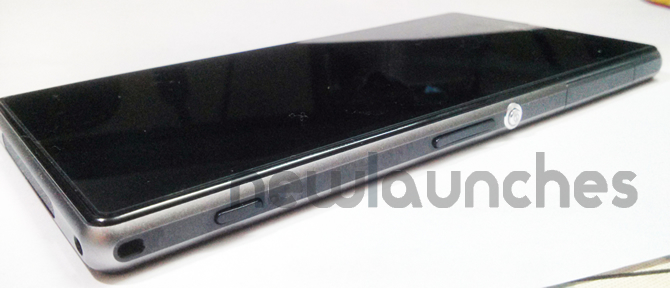 The display and rear panel are said to be shatter proof and scratch-resistant, I agree with just the first part as the phone fell down repeatedly (well how was I to test it) and I couldn't even see a hairline crack. Considering this review is a quite late I also got the handset after quite a few others had a go with it and the brutality of the testing had taken its toll on the poor display that was riddled with scratches and unsightly scars of battle. The same goes for the rear glass panel. Get yourself a screen guard even if the companies say their displays are scratch resistant.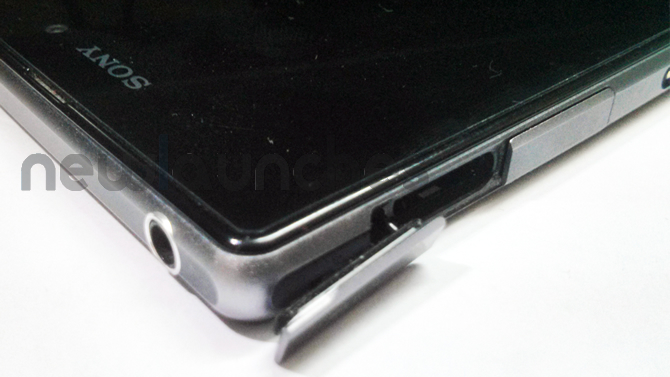 At the top is the 3.5mm handsfree socket that has no cover, but don't worry the handset is IP58 certified, which in layman's terms, translates to dust proof and water resistant over 1 meter and 30 minutes. If anything should go wrong with underwater or rain photography contact your nearest Sony dealer and go completely medieval on him. So far, post my tests from inside a glass and bucket of water, all seems well. I could even hear the phone ringing from inside the bucket of water and see the caller quite clearly. Now here's the problem, Sony's wet-finger touch isn't as good on the Z1 as it was with their older devices like the Xperia Go or the SE Xperia Active. It was quite a challenge to use the Z1 after it was dunked as my wet fingers on the wet display found it hard to make a connection. Not that you'd ever need to really use it, but while underwater, the display is off limits. So to cancel a call if you're snorkelling, you'll have to activate the 'Power Button Ends Call' feature.

On the right hand side is the microSIM slot that's well flushed into the design and concealed with a flap, the same goes for the Mircro-SD and USB ports on the left side. The very resonant looking power/sleep button is placed perfectly where your thumb (for righties) or index finger (lefties) can easily reach. The slightly raised volume rocker is beneath it and the camera button is at the bottom on the same side. I love the fact that the Z1 has a tether hole for attaching a loop strap. Paranoid people like me would want to make sure that the phone wouldn't fall if I were feeling adventurous enough to take some crazy, high-risk photos. A docking port with terminals is located on the left.
The Z1 is sleek but rigid in Sony's Xperia Z-series form. It's now mundane and we've seen too may like this already. Please Sony, don't fall into the same stuck-in-the-mud platform as Samsung where all handsets and tablets look the same but just come in a variety of sizes. We'd like to see something fresh the next time around.
User experience and overall Performance
Hardware
The Xperia Z1 is no slouch when it comes to hardware. It packs in a Qualcomm Snapdragon 800 chipset with a 2.2 GHz Quad Core Krait 400 CPU and 2GB of RAM. It's fast, there's no doubt about it, but if AnTuTu scores are to be believed then it's a little behind the LG G2 (review here) but ahead in overall score on Quadrant. The Xperia Z1 is available in just one capacity i.e. 16GB but unlike the G2, it offers expandable storage up to 64GB. All of this runs Android Jelly Bean 4.2.2 and there's no word on a 4.3 update yet.
Two issues persisted with the hardware –
1 – I was plagued with display blackouts. On various separate occasions, mostly during calls, the screen simply went off. I was unable to revive it and since the Z1 is a unibody handset I was unable to reboot it the old fashioned way, by removing the battery. The power button refused to awaken the display or shut the handset off. From a very slanted angle I noticed that the display was, in fact, on but dim to the extent that it looked powered down. It seems a few other reviewers and users had similar problems. The problem just seemed to fix itself with the handset either restarting or the caller hanging up and the display switching on a few seconds later.


2 – Thanks to the glass rear panel, shatter proof or not, I could really feel the heat when the handset was used for long periods. After taking around 5-6 photos (without the flash) I noticed the handset getting extremely hot, so much so, that it was uncomfortable to carry around in my pockets. I even got an error from the camera stating that due to heating issues the camera wouldn't work and that I'd have to wait till it cooled down.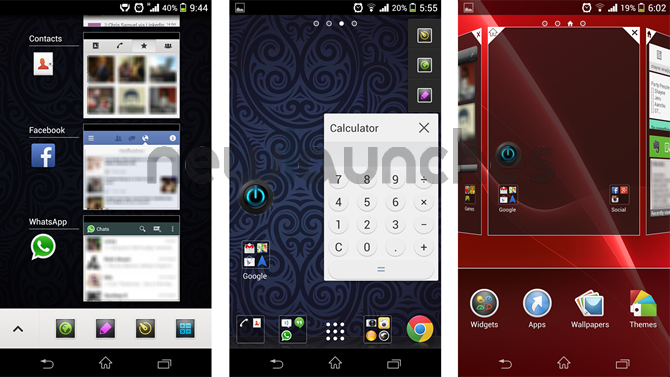 User Interface
Sony's UI isn't as sophisticated as LG's or Samsung's but it does have certain elements that make functioning a little easier. For starters, the apps menu has a right swipe from page one that gives you a settings menu for sorting and uninstalling apps. The running apps page has a few selected mini apps that open in small windows to enable multitasking on the same page. It's Sony's answer to what Samsung and LG have going on their respective UIs. This one also lets you swipe these mini apps into little icons that sit at the corner of the page permanently, irrespective of what screen you're on. A tap will bring any one back to its minimal sized screen. Sony also has a few Keyboard options with themes available via a swipe selection mode. Other than that there's not really too much more to talk about with regards to the UI.

Media Capabilities
The Sony Walkman player is still my favourite in the mobile phone category. It delivers a very powerful bass line with well balanced higher and mid tones to make for well conditioned audio. Sound enhancement settings include presets and a customizable five band graphic EQ settings with Clear Bass. Clear Stereo, Clear Phase and xLOUD features are also part of the Z1's audio capabilities package. For calls, Microphone noise suppression, Speaker voice enhancement and Slow talk features all help make voice clarity much better.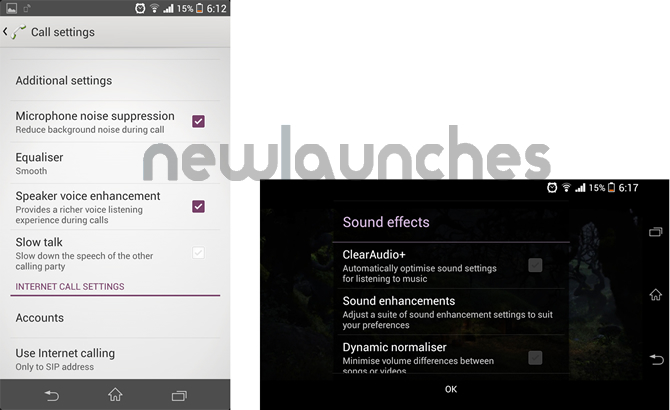 Video playback includes support for MP4, H.263, H.264 formats with and some .AVI files as well. Full HD and even 720p videos looks pretty good on this screen but again some of the colors get a little too glossy. Clear Audio+ and a Dynamic normaliser also help boost the audio quality for, the video player. GraceNote helps get you more information about videos you're watching. Features like Sony's TrackID TV, Video Unlimited, PlayStation Mobile and the Sony Reader are not available for all countries and are will thus prove redundant assets. TrackID for audio works just fine even if SoundHound worked a little faster. The Stereo FM radio with RDS worked like a charm. Reception was pretty good for most of my testing. For books and movies Google's Play Books and Movies are available for online content.
Support for 'Throw', a DLNA based set up lets you view what's on your phone on other WiFi enabled devices like an HDTV are present. The Z1 can also act as a server for viewing content on your television or PC. It supports TV Out via MHL.

Connectivity and Associated Apps
The Xperia Z1 is an LTE enabled handset with other connectivity options ranging from WiFi (a/b/g/n/ac), WiFi-Direct, DLNA and hot spot creation to NFC, Bluetooth 4.0 and USB OTG. The Z1 is also PlayStation certified which means you can use your PS3's Dual Shock Controller to play games and control other features on your handset. However, to sync the controller you'll need a USB OTG cable sold separately.
Sony's Socialife app consolidates all your various networking accounts into one space kind of like what their TimeLine feature did with earlier devices. Sony Select works just like Samsung and LG's individual app stores. It picks up apps best suited for your device and brings them to this one space for easy access but will still lead you back to the Play Store for downloading. Google's host of apps that include GPS based Maps, Navigation and Local. That also includes Gmial, G+ Photos et al.

The 20MP Shooter
The Z1's biggest feather in its cap could be the 1/2.3" 20.7 megapixel camera with its Exmor RS for mobile image sensor. It's also got Sony's G Lens and intelligent BIONZ engine for image processing. That's a lot of fancy talk for providing more stable and sharper images. But does it deliver? Sort of.
In some cases I found it hard to focus on what I wanted even while using touch focus setting. Shooting options include Superior Auto that downsizes the images, and auto selects the best settings. Manual mode let's you shoot at 20MP but without any Scene options just exposure control, White Balance, Flash control, ISO selection (up to 800) and a few others. I couldn't get the Exposure levels to work but the WB settings did. Here are some images taken with Superior auto and Manual.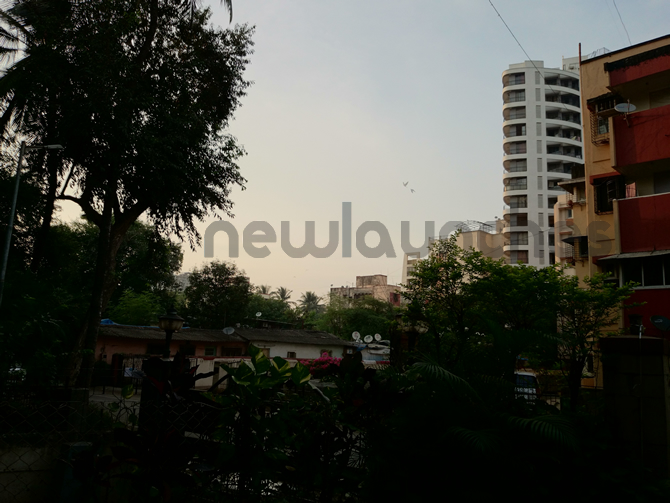 When there's ample lighting the results are pretty good and yes, the BIONZ engine does help deliver very sharp images.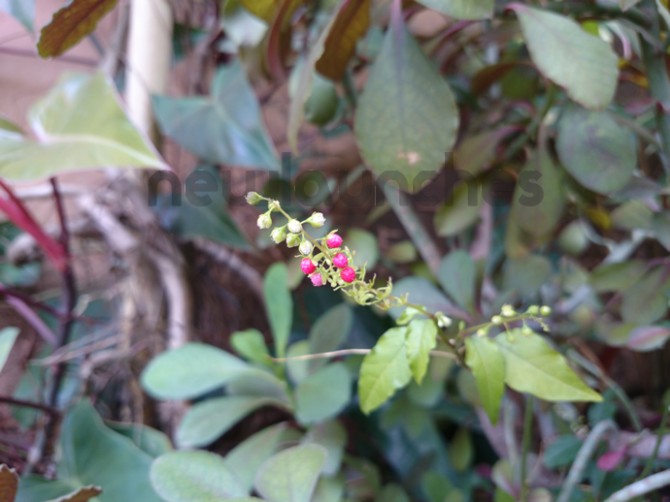 Close ups, if you can get the camera to focus where you want it to, look great and color reproduction looks great.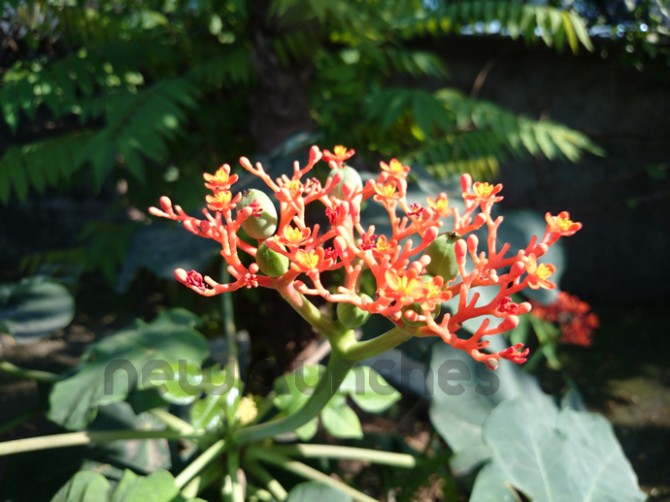 Here's a photo taken by hand with Night Mode selected form the Scene settings when the resolution is reduced to 8MP. That's the only time you'll have access to these options and a couple more. Scene selection is not available at 20MP. The image is unsightly and full of artefact and blur as my hand isn't as stead as a pro's.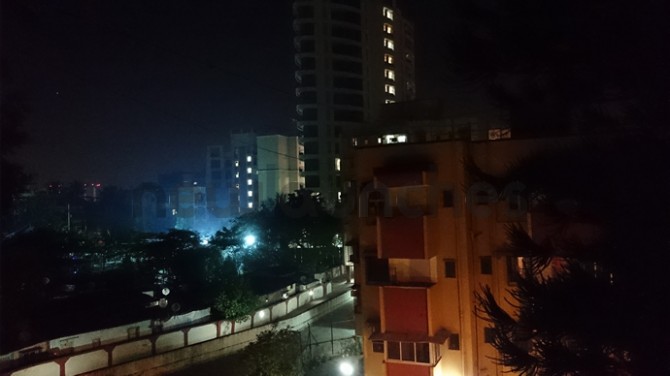 Here's the same angle taken at 20MP with no adjustments but a timer of 2 seconds and the camera placed on a steady platform, free of movement. Image quality is so much better and just as good if not better than most other mobile cameras placed in the same scenario.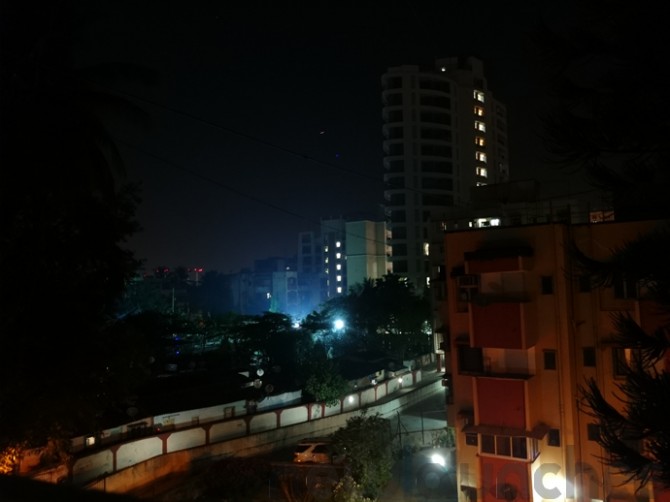 Although the Z1 didn't play too well if unsteady low light scenarios, if taken carefully you can get images that manage to stay sharp and quite focused. Take a look at one taken from close up indoors and one at a club.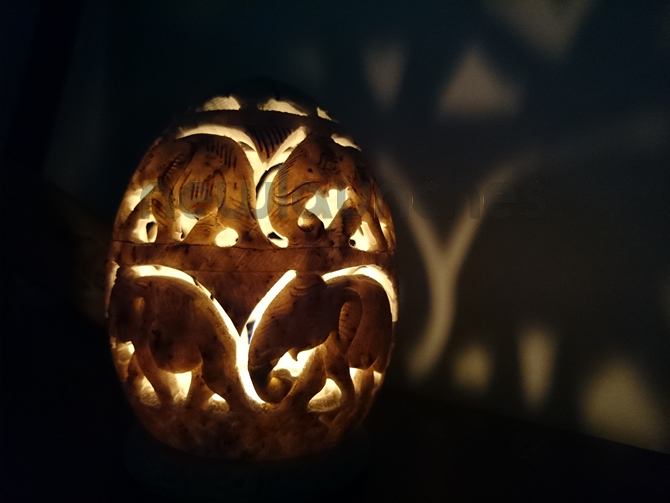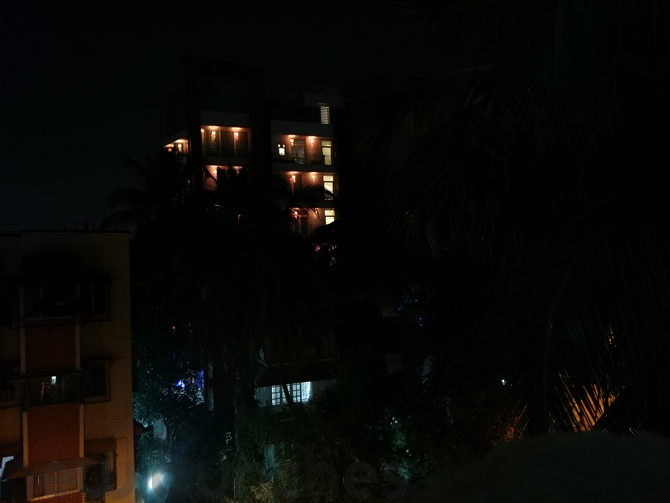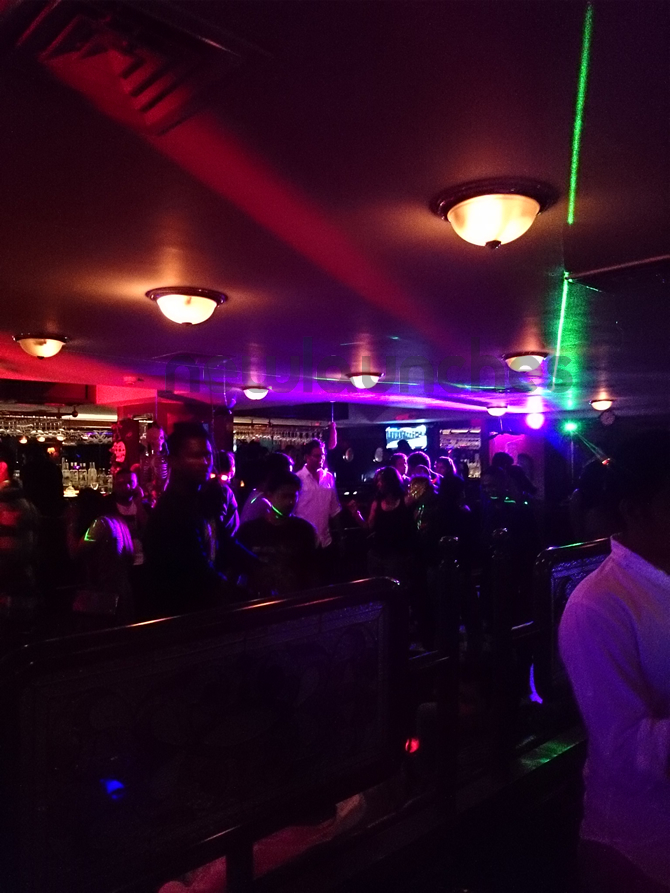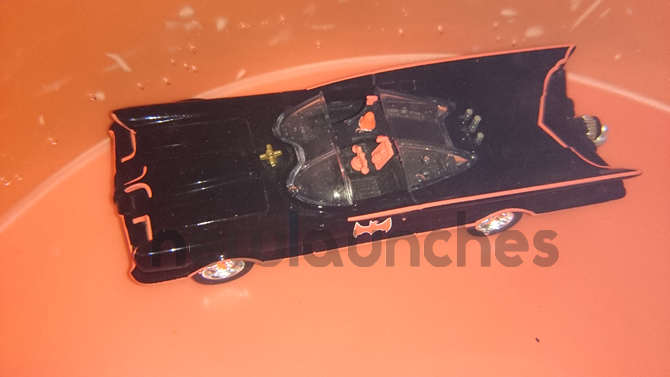 A few interesting camera apps or lenses, as they'd be called on Nokia devices include an AR (Augmented reality) option that gives you all kinds of cool stuff on the screen like a T-Rex moving around in a jungle, big fish underwater etc. all of which can also be manipulated by you. You can also download a couple of others like Motion shot that captures moving objects and lets you select just how many of that object you'd like to see in a picture. TimeShift Burst mode works just like all the others available with other smartphones. It captures a series of quick images (so in low light they look quite awful) and lets you select from the array just which one you want to save. Sweep Panorama (LG's and Samsung's panorama's are more user friendly), Picture Perfect that gives you a live view with all the various color and artistic settings.
Info-eye lets you take pictures and using GPS coordinates scans the image and gives you more information about the location, places in and around it , access to maps etc. It's great for frequent travellers. There are a few other camera options that can be quite handy too like direct access to image capture for Evernote and sharing on Soicalife etc.
The camera might not be the very best in class but it does manage to do a great job, if you have steady enough hands. If you're shaky, all the Exmor RS, BIONZ engines and Image Stabilisation settings will not help too much. That being said, the Z1's camera is nevertheless very capable of delivering great photos in all the right settings. And don't think you'll able to change any settings while you're capturing pics or videos underwater.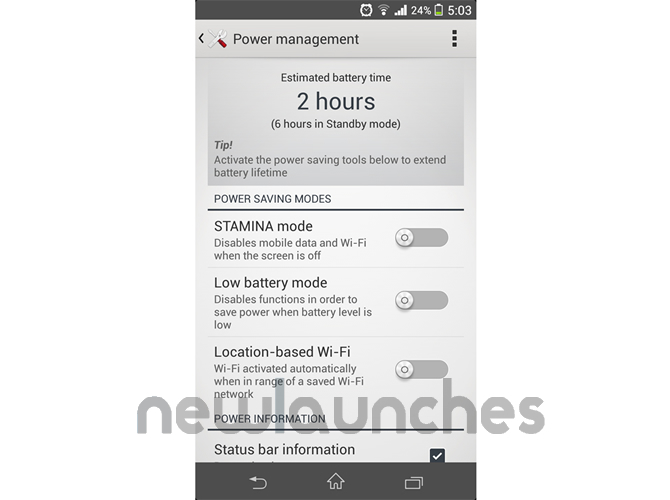 Battery Life
The 3000mAh battery is just brilliant. As is, it will easily cater to your every whim for a full day's work i.e. about 9-10 hours of rigorous use. With STAMINA Mode in session, it'll go for much much longer. With minimal use of games, messages, browsing, a few calls and at least 20+ photos, the Z1 ran for over a day and half on a single charge and still had about 10% left in STAMINA mode. This gets my two thumbs up!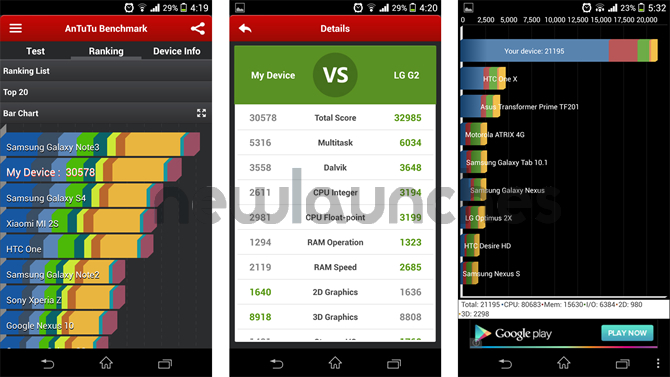 The Bottom Line
So the deal is, the Z1 has a few kinks – the screen blacking out randomly, the handset heating up too quickly preventing you from using the camera, focus issues with the camera, a rather laid back UI, etc. On the other hand, the LG G2 is bit cheaper cheaper, faster, a much less finicky display, better UI, good battery life (not as good as the Z1's though) but no memory card support. It's Sophie's Choice. On one hand you have phone that can be used in the shower or the pool and on the other you have an all out great handset with no visible bugs. A decision you'll have to make based on personal preference or brand appeal if nothing else works. Of course if you're an outdoors type person then the Xperia would be a better option purely in terms of endurance but usability of the device when the screen is wet is not easy.
Design and Ergonomics – 4/5
Features – 4/5
Connectivity Options – 4.5/5
Camera – 4/5
Media – 4/5
Overall – 4/5