September 8, 2014
Sony showcases their future tech bike protoype Xperia Bike at the IFA
by Shruti Shree
Hey, now stop ogling at the screen and put your raised brows back to normal please…Yes. The title is correct. Sony out of now where has launched the prototype of "Xperia Bike" at the IFA. And as expected from a Sony product, it has a Sony Xperia smartphone placed in the centre of the handle. With this bike, Sony at its naughtiest best promises a sense of pleasure that you get from a sexy toy! Ooh la la! Is it true? Read on to know.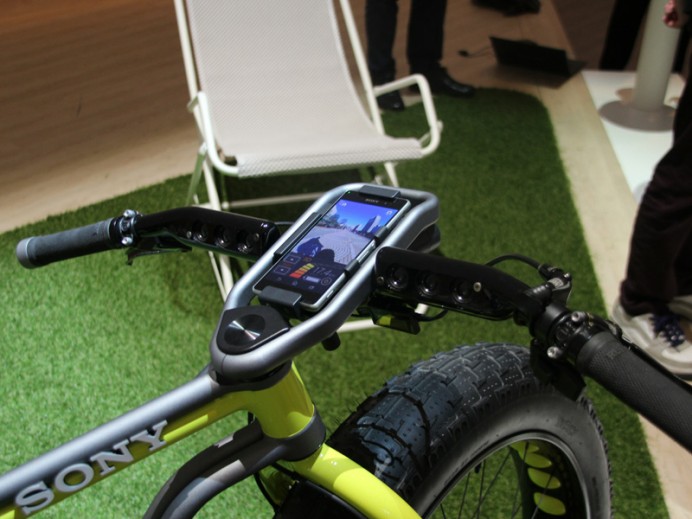 Let us now take a look at the features of this whoa inducing mode of gallivanting around. The Xperia Bike will be equipped with a fisheye lens (ultra-wide angle lens for a wide panoramic or hemispherical image) at the front and the rear of the bike to shoot your wonderful journey (those trees, animals, the weather, may be even rains, clouds, mist and bikers and other people too!). There will be light in the front which will help you see clearly in the night as well as shoot videos. And then, there is the Xperia smartphone in the centre of the handle, which will help you navigate with the help of maps (no surprises there). But wait, how about capturing the images of your adrenaline pumped face when you are enjoying the exhilarating experience of coming down the cliff with a force! The smartphone camera will do just that, you can also confirm which images to keep and which to discard while the bike is running. And what is a ride without music? The bike also has speakers in the centre of the handle, so that you can groove to your favourite tunes (albeit a little slowly, eyes on the road please)! So biking enthusiasts, are you thinking that these features are good enough to buy this bicycleand make your friends jealous? Then there's a bonus for you. The bike also has a battery to give you the power to climb that steep mountain without the trickles of sweat on the forehead. This will make you less tired and the photo will come out even better!
We don't think that Sony is making any false promises here, as Sony Xperia Bike exudes sexiness from every angle because of its unique features and great design. Stay tuned as we bring you the news of more and more innovative gadgets and other electronics launched at the IFA.