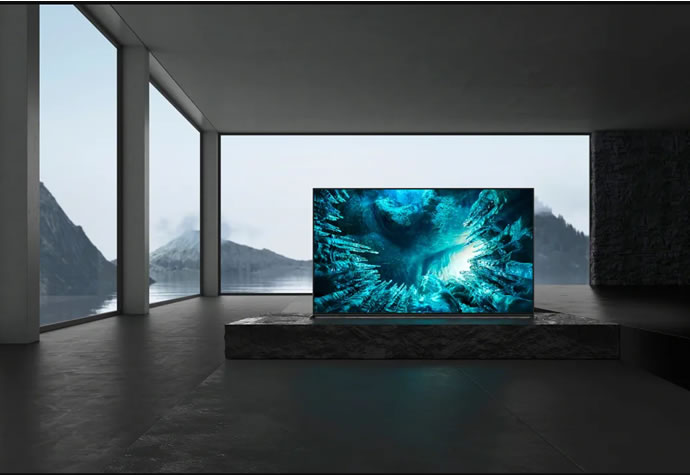 January 7, 2020
Sony Announces A Wide Array Of New Televisions With Advanced Picture Quality And Sound Capabilities
by dhiram
Sony Europe today announced a wide array of advanced new televisions including the new ZH8 8K Full-Array LED, A8 (55" and 65") and A9 (48") 4K OLED, and XH95 and XH90 4K Full-Array LED sets. Sony's new TV line-up encapsulates the very best of its proprietary technologies to truly deliver the creator's intent on the screen. By utilizing Sony's best-in-class Picture Processor X1 Ultimate, the clear and precise picture quality is achieved for a highly realistic viewing experience. Premium quality sound is a key part of the viewing setup as well, and the new models feature Sound-from-Picture Reality, which gives customers the feeling that sound is coming directly from the screen.
The new models will continue to deliver the creator's intent with Netflix Calibrated Mode, offering studio-quality Netflix content, and IMAX  Enhanced (in select models), which brings the IMAX Experience into the home by offering a new level of sight, sound, and scale. Sony's new TVs will introduce Ambient Optimization, a new technology that optimizes picture and sound quality in any customer environment. It will automatically adjust the picture brightness to the ambient light in the room, boosting the brightness in bright rooms and reducing in dark rooms for the perfect view. It even detects objects in the room, such as curtains and furniture that can absorb or reflect sound, fine-tuning the acoustics so your sound isn't compromised. 
The new Sony TVs feature a new Immersive Edge design concept. In order to create even more viewing immersion, a discrete stand is now located at the edge of the screen. The minimalist stand is hardly noticeable, offering customers an improved and unobstructed viewing experience. For the upcoming next-generation gaming consoles, select new models will support 8K resolution, 4K 120fps high frame rate and fast response time via HDMI inputs to deliver their maximum performance for a cutting-edge gaming experience. With this new range, Sony aims to offer the most immersive experience on the market, with industry-leading picture quality, innovative sound and seamless user experience framed in premium large screens.