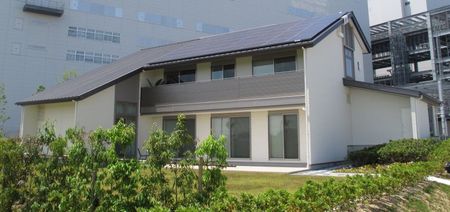 June 14, 2011
Sharp Eco House is the first zero carbon house
by ruchi

Sharp has finally completed the construction of Eco House in Osaka, Japan- the first ever set up that boasts of zero carbon dioxide emissions. With this, Sharp intends to give people a piece of technology that will drastically cut down power consumption and contribute to a comfortable living environment.

The house is fitted with cutting-edge energy-saving appliances integrated into a network using HEMS. It can thus use AQUOS TVs and LCD tablets to show how much power is being consumed by your household and accordingly work on it. Its energy-saving performance is further heightened with use of LED lighting that pours in comfortable levels of bright light. HEMS here will be used to manage the energy between their production by the photovoltaic modules, storage in batteries and usage in appliances.
Through this model, Sharp will gather data that will further augment its pursuit of creating energy-efficient solutions. It will help realize practical applications which cover things like the control of peak electricity and the compatibility of devices and appliances with smart grids. Among other things, it will also help them evaluation how effectively an EV storage battery connected to the Intelligent Power Conditioner can power appliances in a house. Also, they will see how feasible is the use of photovoltaic module energy as direct feed for DC appliances.


[TechOn]