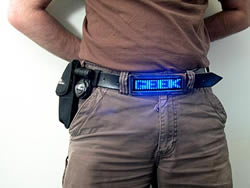 November 9, 2005
Scrolling LED Belt Buckle
by Dhiram Shah
Do you have something intelligent to say? Feel the need to put it on your belt buckle? Well even if you don't this product is still quite nifty. 147 colored LEDs surrounded by a chrome frame that can be attached to a belt or set on a desk or shelf. Your own personal billboard ready to announce your brilliant thoughts to the world or a convenient way to quietly tell someone to STFU. We'll leave that decision up to you.

Features


Onboard speed and brightness adjustments

All functions can be programmed without a computer (using the onboard programming buttons)

Can store up to 6 messages, each message 256 characters long

Takes two CR2032 batteries (included)

Comes with user manual

Dimensions: 5.3″ x 1.8″

Starts from $ 24 – 29 at
Thinkgeek
.