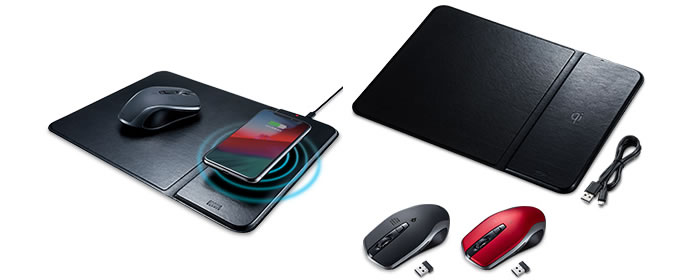 July 24, 2019
Sanwa launches Qi compatible wireless mouse and mouse pad
by Dhiram Shah

Sanwa Supply Japan today announced the Qi compatible wireless charging function mouse pad MPD-WLC11BK and Qi compatible rechargeable wireless mouse MA-WBL 157BK / R. MPD-WLC11BK is a mouse pad with wireless charging function that supports Qi. This certified product conforms to the international standard "Qi" formulated by WPC, and has a built-in charging pad on the right side of the pad. Up to 5W can be charged just by placing a smartphone that supports Qi standard. Smartphone with 3 mm or less thick case can be charged with the case.



Sanwa MPD-WLC11BK mouse pad comes with an operation confirmation LED to indicate the status of standby / charging / error. For safety built in safety function stops charging the smartphone when foreign matter such as metal is detected, so it can be used with confidence. The pad surface is made of leather-like material, and the mouse pad operation part has a thickness of about 3 mm, and the wireless charging part has a thin design of about 6 mm in thickness.


Sanwa MA-WBL157BK / R is a wireless mouse with 2.4 GHz band connection. It can be easily charged simply by placing it in a Qi compatible charger, and in combination with the MPD-WLC11BK, it can be charged simply by leaving it unused.  By using a highly sensitive blue LED as a sensor, operations can be performed even on glass surfaces. User can use it as wired mouse with attached Micro USB cable. The mouse has 5 buttons and the dpi can be selected from 80 / 1,200 / 1,600dpi.The continuous operation time of the is about 60 hours.


The wireless system adopts 2.4 GHz RF radio system, which is resistant to radio interference, and stable data communication is possible over a wide 10m radius communication range. Sanwa Qi compatible wireless charging function mouse pad MPD-WLC11BK measures 325 x 244 x 6 mm, weighs 220 g. The MA-WBL157BK / R wireless mouse measures 69 x 121 x 38 mm and weighs 105 g. Both are available for 3,888 yen ($36) and 3996 yen ($37) respectively.