August 28, 2013
Samsung's Curved OLED TV launches in Germany today!
by Gareth Mankoo
It's been a phenomena we have long awaited and now, we finally see it take shape. Although in a distant continent, the idea brings to light hopes of having a television set that would fit comfortably into the corner of a room. The Curved OLED will be coming to Germany, England, France, Austria, Switzerland, Netherlands, Belgium and Italy, and oh, what cheer they shall bring before next year's Fifa World Cup. The screens come with the promise of crystal clear picture quality, sharp contrast and of course, the 'curved' viewing experience. In addition to this, the TV will also be the first to offer Multi View capabilities with Full HD in 2D/3D and stereo sound. Not so surprisingly, the TV launch will coincide with the 50-year celebration of the German Football League, Bundesliga.


The Curved OLED TVs will be launching today, 28th September (in case you're just up from hibernation). We hope that this post has finally given you enough reason to take that long holiday to Europe and upgrade your geek gut. The first set will kick-off in Germany, from the Samsung Brand Store Located in the heart of Frankfurt.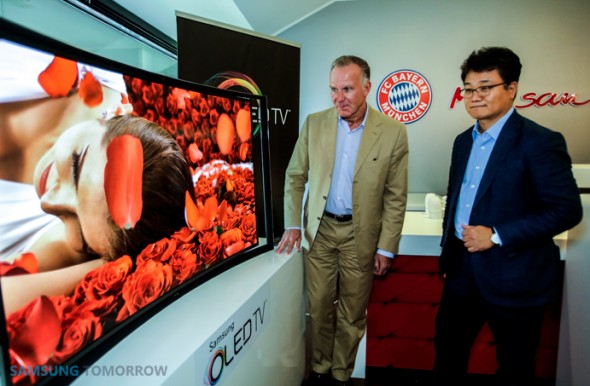 [Via – Samsung-Tomorrow]