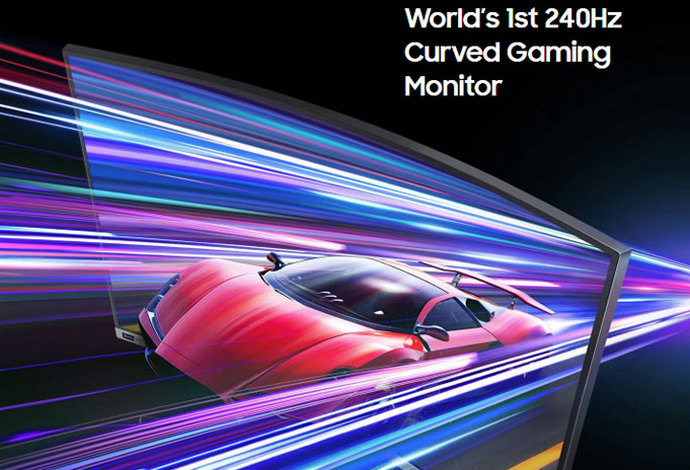 June 11, 2019
Samsung Unveils World's First 240HZ G-Sync Compatible Curved Gaming Monitor CRG5
by dhiram

Samsung today announced the world's first 240HZ curved Gaming Monitor CRG5 (C27RG5). The 27-inch CRG5 delivers a 1500R display curvature combined with a lightning-fast refresh rate through 240Hz RapidCurve technology, eliminating screen lag time while displaying ultra-smooth scenes for a truly immersive experience. The monitor has been validated by NVIDIA to meet the performance and image quality requirements for G-SYNC compatibility and delivers smooth, tear-free, low-latency gameplay during any scene, all in full HD resolution (1920×1080).



The Samsung 240HZ curved Gaming Monitor CRG5 has deeper blacks and brighter whites with a 3000:1 contrast ratio, providing superfine detail even in the brightest and darkest parts of a game. CRG5 has a curved vertical alignment (VA) panel display, providing an immersive gaming experience with a wide viewing angle. Gamers can select pre-set display options for any genre of game with an on-screen digital menu, and for more advanced customization users can create up to three separate display profiles to easily switch between.


Samsung CRG5's minimal bezel design offers near edge-to-edge screen on three sides and a sturdy, ergonomic stand to help gamers stay comfortably immersed in the gameplay. The Samsung CRG5 was unveiled at the PC Gaming Show from PC Gamer. The CRG5 will be available globally in Q3 2019.