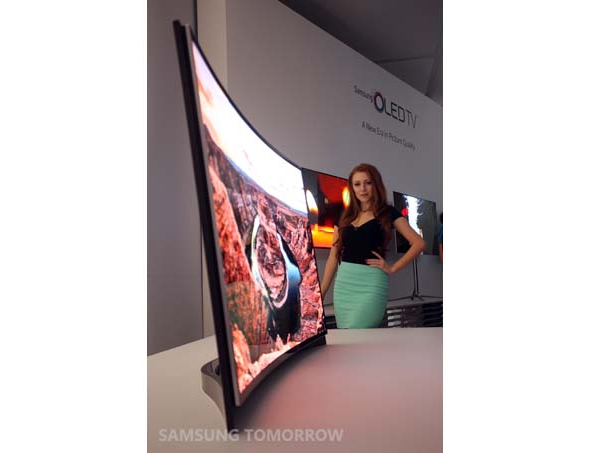 June 27, 2013
Samsung throws viewers a curve ball with their new, one of a kind Curved OLED TV
by Shayne Rana
Say hello to Samsung's all new Curved OLED TV with what could be the best possible true-to-life pictures with the best possible viewing angles ever. Because of the curved surface of the TV, the distance between the viewer and TV screen will be virtually the same at all times. Thanks to this new type of display tech, viewers would get the best experience irrespective of where they were sitting in the room. Following the companies 'Timeless Arena' design; with super thin bezel and a stand that can't even be seen, Samsung has once again proven they're on the very edge or cutting edge technology. The panel comprises of thousands of self-emitting diodes which should make for brighter, more vibrant colors and hopefully sharper imagery compared to what we've seen already.


The new Curved OLED HDTV will be available with the company's Multi View (watch 2 channels simultaneously) feature and the Evolution Kit. For Multi View purposes Samsung is issuing 2 pairs of 3D glasses that feature built in earphones as well for added convenience. The Evolution Kit will ensure that your TV is future proofed for a long time to come.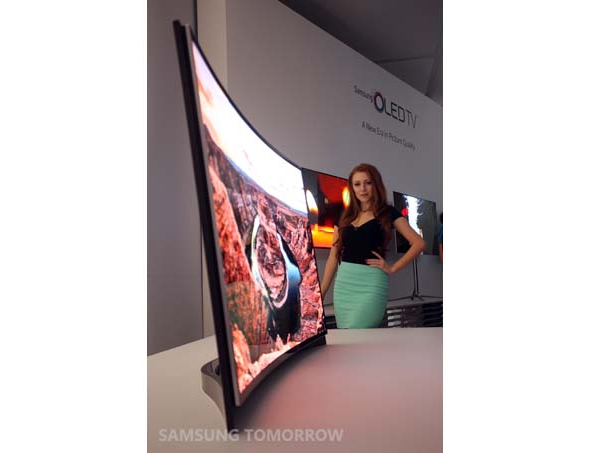 Naturally the Samsung Curved OLED TV is built of the best materials money can buy and looks damn good as well. It seems like a TV is not just a device for watching your favourite programs on any more, but more of a statement in terms of innovation, and sophistication with all the trimmings for bragging rights. As of now, the Curved OLED TV was merely showcased in Seoul but there's been no update on price or availability for the global market. For the Korean public the TV is going to be priced at about $13063 (KRW 15 million).
[Via – Samsung-Tomorrow]