August 5, 2013
Samsung Galaxy S4 proves it's too hot to handle, reportedly catches fire and burns mans house in Hong Kong
by Shayne Rana
Samsung's hot right now, literally and figuratively, but more literally. Word is that another one of the Samsung's hot little numbers caught fire again and this time it wasn't in someone's pocket like the recent S3 incident. This time around, the next edition S series device,i.e. an S4, got a little too hot to handle and might have possible burned a house down. A report from a man in Hong Kong states that his new Galaxy S4 spontaneously caught fire and was the cause of his house burning down. According to the report, the handset sort of blew up while he was playing a game called "Love Machine". His affections might have been a little too hot for the phone to deal with after he says that a loud pop emitted from the handsets battery compartment. Startled, he tossed the handset away onto his sofa which immediately caught on fire. That naturally led to nearby furniture getting ignited as well and the rest of his home was soon history.


Thankfully the man and his family were not injured in this heated escapade but their house bore the brunt of the devices dastardly deed. This is one of a few random incidents that have been reported in the last year of Samsung smartphones catching fire. Following one in 2012 where a Galaxy S3 ignited while on a man's dashboard, and the more recent incident involving a teenager from Switzerland who's S3 spontaneously combusted in her pocket. While the incident in Switzerland was reported to have been caused by a non-official Samsung battery, the most recent involving the man named Du from Hong Kong indicated that all paraphernalia and accessories of the S4 in question were Samsung originals.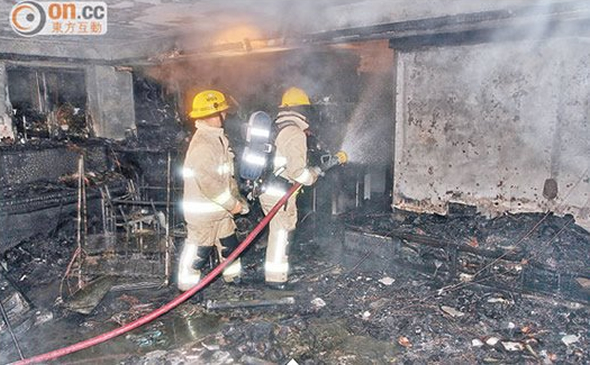 Samsung's offices in Hong Kong are stated to be 'looking into the matter' as of now. This isn't the first time a mobile phone has behaved in such a manner as there were quite a few incidents involving Nokia's infamous BL-5C batteries that caused a rukus a few years ago. While there's no way of telling yet how the Hong Kong incident occurred, we here at Newlaunches suggest you stick to original parts, be it batteries and especially chargers. Also avoid charging devices when wet or near water and using the devices when connected to a charging cable – either via PC or wall socket.
[Via – Ithome]