June 28, 2021
Samsung announces world's first robot vacuum cleaner equipped with a 3D active stereo-type sensor and Intel AI solution
by dhiram
Samsung today announced the global launch of its new robot vacuum cleaner, Jet Bot AI+, first unveiled at CES 2021. Samsung Jet Bot AI+ is the world's first robot vacuum that comes with an active stereo-type 3D sensor, which accurately scans a wide area to avoid small, hard-to-detect objects on the floor. Its 3D depth camera—equivalent to 256,000 distance sensors—can precisely detect obstacles as small2 as 1cm. This game-changing object detection can prevent the unit from getting stuck on small obstacles in its cleaning path.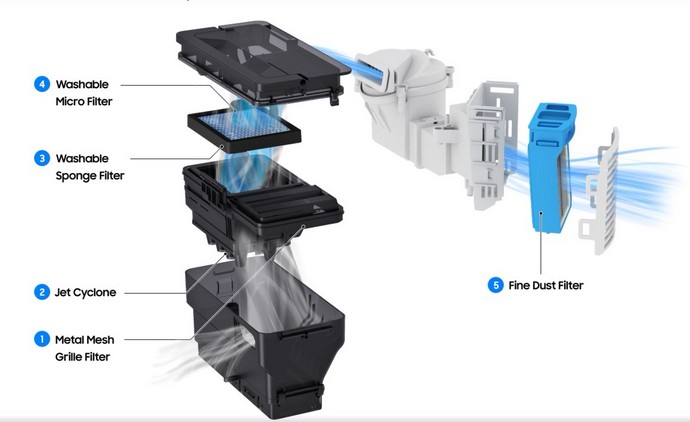 Jet Bot AI+ is also the world's first robot vacuum to be equipped with an Intel AI solution, which powers its Jet AI Object Recognition technology. The smart solution allows the robot to navigate with more accuracy by recognizing not only the objects on the floor, but also appliances and furniture. The robot's smart decision-making ensures users can have their unit clean closely around items such as children's toys while maintaining a safe distance from delicate objects like porcelain vases. Samsung Jet Bot AI+ can also classify items such as pet excrements, glass cups and electrical cables as dangerous or likely to cause secondary contamination in order to avoid them.

Users can clean their homes much more thoroughly with advanced technologies that enable powerful cleaning. Jet Bot AI+'s Digital Inverter Motor maximizes the suction power for a deeper clean. And with its Intelligent Power Control function, the new robot vacuum can even identify the type of surface it needs to clean as well as the amount of dust that is on it. Using this information, the unit can automatically adjust its suction power for a more optimized cleaning session.

Jet Bot AI+ pairs with the Clean Station, which collects dirt and hair in a 2.5L dust bag and only needs to be replaced once in every one to three months. After cleaning, the robot vacuum automatically returns to the Clean Station, emptying itself using Air Pulse technology complemented by a multi-layered filtration system that traps 99.999% of fine dust,10 ensuring virtually no dust is released back into the air. Jet Bot AI+ comes with advanced 5 Layered Filtration system traps 99.99%7 of micro dust, including 0.5~4.2µm sized particles that easily escape. All parts and filters are washable, so they can be kept hygienic.

Samsung Jet Bot AI+ is equipped with a LiDAR Sensor that calculates its location precisely to optimize its cleaning path by repeatedly scanning the room to gather distance information. This technology works well in dark areas such as low-lit rooms or underneath furniture so the unit can cover a larger area6 with minimal blind spots. Jet Bot AI+ is available for pre-order in the U.S.for $1,299/- and will be available in the Latin American, Southeast Asian and CIS regions during the second half of 2021.