January 13, 2017
Responsive apparel launched to alleviate mobility problems for the aged – A Yves Béhar-Superflex collaboration
by Shilpa Chatterjee

Yves Béhar's Fuseproject studio recently unveiled a line of responsive apparel, christened the Aura Powered Clothing collection, at London's Design Museum's New Old Exhibition. This exhibition is a unique platform wherein designers can explore and leverage diverse avenues/approaches to make a real difference in people's routine experiences in later life. Aura Power Clothing (first prototype) is one of six projects that the Design Museum has commissioned for the New Old Exhibition.


Designed in collaboration with robotics company Superflex, the Aura Powered Clothing collection is no less than a miracle cure for the elderly having mobility issues. These special, 'smart' garments come embedded with "electric muscles" or pods, to help aged wearers walk, stand, and even climb stairs with considerable ease.
Made using lightweight and flexible fabric, Aura Powered Clothing aims to equip ageing people with higher strength levels. This is made possible through a series of motors contained in hexagonal pods, positioned at the legs, torso, back, and hips. All of them are embedded with sensors, and each of them leverage artificial intelligence to not only sync with the body's natural movements, but also muscle power to help the wearer sit, get up, or stay upright.


In addition, the sensors and pods are functionally aligned with the wearer's muscular composition. A band within the soft fabric sections get tight around certain body parts so as to offer appropriate lumbar support.
Fuseproject and Superflex's choice of design, materials and color are a far cry from the typical clinic look and 'sickroom aesthetic' as they refer to it – They refuse to confirm to conventionalism, and are focused more on performance, comfort, looks, and even style.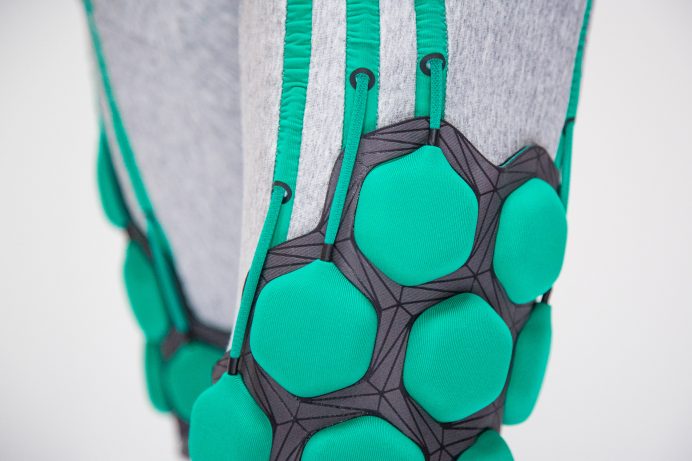 It seems like Superflex has come up with the concept of Powered Clothing to use technology to empower people, especially the aged, to freely engage and interact physically, socially and emotionally with the world, and enhance their physical ability to help them live a more active life. Together with Fuseproject, they plan to continue developing this concept further. The duo envisions that their Aura Powered Clothing collection will sooner or later start being used by athletes and differently-abled individuals too.
[Via:Dezeen]