May 13, 2019
Race legend John Morton Honored with Custom Wristwatch Made from the Front Chin Spoiler of #46 1971 Datsun BRE 510 championship car
by Dhiram Shah

To commemorate a friendship 50 years in the making, Nissan collaborated with Denmark-based REC Watches to craft a unique timepiece for renowned racing driver John Morton. Morton's skillful driving in the early 1970s elevated the Datsun brand as a competitive contender on the racetrack and earned the adoration of fans globally. Until this project, the unassuming, slightly damaged original chin spoiler hung on an office wall at Nissan headquarters as a reminder of the iconic Datsun BRE 510 that established the brand as a legitimate performance competitor. Now, that very spoiler was used to create the caseback of the watch with contrasting colors of red, white and black.



Morton was behind the wheel of the #46 Datsun 510 built by Peter Brock and Brock Racing Enterprises (BRE), winning consecutive SCCA Trans Am 2.5-liter Championships in 1971 and 1972. The 1971 race was considered a major upset and earned the car a reputation as a giant killer. The watch is a small token of appreciation for a valued friend of Nissan and a timeless legend to race fans all over the world.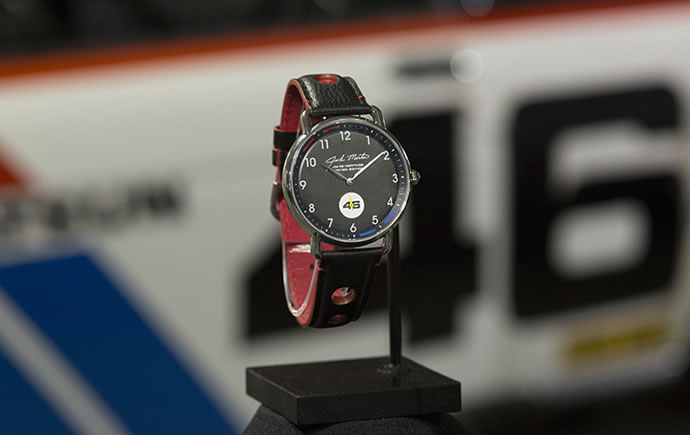 The JM 46 Heritage wristwatch features significant nods to the BRE #46 Datsun 510 including its race number #46 on the face, iconic colors and Morton's signature. More subtle accents, such as a yellow second hand, pay homage to history. Wanting the car to stand out on the track and in photos, Peter Brock, the team owner and manager, highlighted various components of the car in a striking Sperex VHT yellow, including its signature yellow exhaust.


Other notable Nissan races for John during 1989-95 include an overall victory at Sebring and several class wins, including Le Mans [1994 24 Hours of Le Mans. Morton was third overall in a Joest Porsche in 1986 and class winner in a BFG Mazda Lola in 1984, competing nine times at Le Mans. Several races in various other classes and categories include Sprint cars and karts. He made his CART debut in the first race of the 1984 season at the Long Beach Grand Prix and finished 9th but was never able to get a ride in a competitive car. John Morton (born February 17, 1942) is an American racing driver from Waukegan, Illinois.