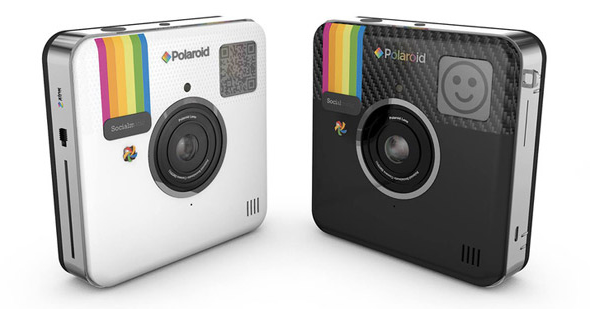 July 22, 2013
Polaroid's Socialmatic camera couples old school integrated printing with new age photo sharing
by Shayne Rana
I've always loved the old school Polaroid cameras with their snap and print functionality. They truly were great for those spontaneous moments you wanted to capture and save for posterity before the digital space opened. But Polaroid has been doing some great work and their latest is a new design for the famous old camera, with a little more pizzazz of course. Enter the Socialmatic camera. From the renders making the web news, this Instagram-icon-looking Android powered camera is designed to function at the same coolness level as its looks. Complete with a 14MP primary lens and 2MP secondary option, the Socialmatic also comes with a 4.3-inch touchscreen, 4 Gigs of internal storage (plus memory card support), stereo speakers and also packs in Wi-Fi, GPS and Bluetooth.


The Socialmatic might have made a bigger dent in the whole "photo" zone, were it equipped with a Xenon flash instead of an LED option. But here's the real clincher almost guaranteed to bring in the sales, the built in Zink Instant Printer capabilities. Aside from that it also features remote printing as well. Naturally, you'll also able to share any and all photos with your favourite social networks but you will need to be in a Wi-Fi zone for that. The best option is simply to share your 3G connection with the Socialmatic for instant uploads.
Although the camera has been showcased and all details made easily available, the Socialmatic is only headed to store shelves sometime next year. It's set to be priced at $299 which doesn't seem all too much but do consider that it has no calling capabilities and is simply a camera, with a built in printer!
[Via – Journaldugeek]