November 12, 2013
NEC introduces 'PaPeRo Small' companion robot with cloud integration in Japan
by Sayan Chakravarty
Remember the cute little PaPeRo robot from Japan which looked like a real life version of the R2D2 droid? Rather Nissan even used it as a navigation assist in one of its concept cars like the rebel ships in the Star Wars Movie. Though it is more than a decade old now, but it was continuously developed by NEC (the company which built it) to keep its technology updated. The Japanese company has now introduced a newer, lighter and more advanced version of its PaPeRo R500 robot. Named the 'PaPeRo Put' or PaPeRo small, it is twice as small as its predecessor and is equipped with a lot of sensors including thermometer, radar and distance sensor and several cameras.


Along with the launch, NEC has called for technical and commercial partners to develop applications to make the robot useful in homes, stores, in schools or in public places. The company wants the PaPeRo Small robot to be integrated with cloud computing to expand its usability and purpose and it's looking for software developers to code bespoke applications for the bot. NEC also announced it will soon release a API that'll make it easier for the developers.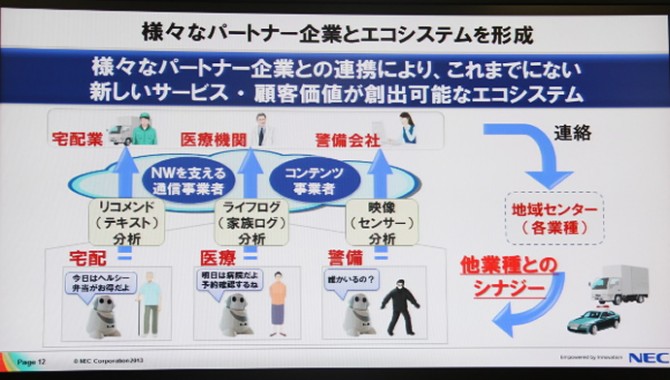 The multiple sensors on the robot and its capability of interacting with humans with its voice recognition and synthesis system make it great care taker for children and elderly who are in a constant need of assistance. Through online connectivity and cloud integration, family can look after their people remotely. NEC is looking for corporate partners for expanding the personal services the PaPeRo robot can render. The 'PaPeRo small' will soon be available in Japan for companies and individuals offering a range of appropriate services on a monthly rent lower than ¥10,000 (approx US$100.8) per month. The company aims to have about 100 partners in three years and provide a variety of services using the robot.
[Via – Itmedia]