January 9, 2015
Panasonics' 'smart' Mirror Prototype Is Able to Spot Wrinkles and Give You Virtual Grooming Options and Tips
by Shayne Rana
"Mirror mirror on the wall, can you tell what I'd look like bald?" So perhaps that's the not the way the rhyme goes, but in today's technologically advanced age or facial recognition and augmented reality (AR), seeing what you could look like in makeup and new hairdos just by sitting in front of a screen, is very possible. Panasonics' 'smart' mirror, being showcased at CES 2015 could very well be the perfect bedroom grooming accessory. But it could be a ladies best friend or her worst enemy.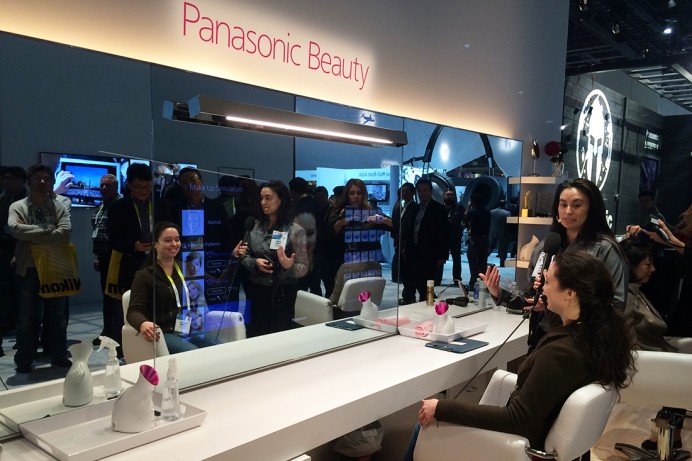 Allow me to elaborate. Designed by one Rieko Asai, the Panasonic Beauty prototype demoed at CES 2015, begins a scan of your facial features the movement you sit in front of it. It not only maps out all your facial details that can get as intimate as plotting age lines, crow's feet and other wrinkles, but also lets you virtually try on make-up, select from a variety of hairstyles and much more. This works for the gents too and lets you see just how you'd look in different hairstyles and also gives you various facial hair grooming options. So if you wanted to know what you'd look like with a Tony Stark sharp cut shave or Zach Galifianakis shaggy beard, this is the mirror that will do it… before you pick up a razor blade. It also prompts suggestions, beauty tips and gives you advice on skin care, products, programs etc.
While there's some validity for this to be made available to the general public, it might be affordable only to the higher-end segment; you know like queens and such (there's a Snow White joke in here someplace, I just know it!). But from a business perspective it has the potential to do well in the field of professional grooming.