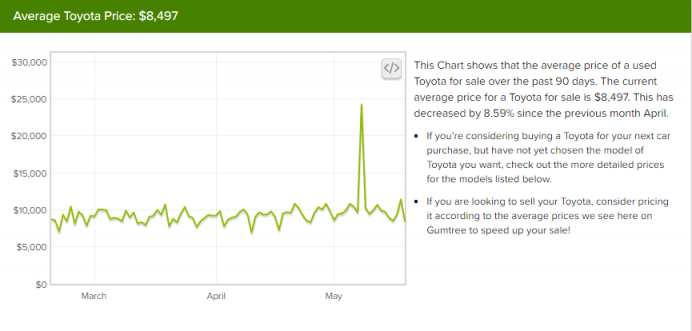 January 31, 2017
One click away – Gumtree launches new data-driven web pages for car buyers and sellers
by Dhiram Shah

For years, Gumtree has been the first go-to platform to search for products for sale. Even if you were not really looking to buy, you could have a look, compare prices and offers, just out of curiosity. If that sounds familiar to you, you will be happy to hear about a new feature the site has launched.

The new car-price data page introduced by Gumtree, has enough options to make your head spin. Firstly, the page is dedicated to those who look for a new car as well as those who are interested in buying a used vehicle.
It is also an extremely useful tool for people who would like to sell their cars and make sure they are getting a good deal. According to some, Gumtree is one of the most lucrative options for sellers.
On the newly launched pages, find detailed data about a variety of cars, divided by models and brands, with price charts, reviews, pros / cons and many more.

The main price page allows you to choose a make and a model from a drop-down list and search for prices or for sale ads.
Once you choose, you are taken to a page that presents you with a list of pros and cons, an overview, reviews, specifications and a very comprehensive description of the car you chose to look up.
The page is a holy grail for more specific details about a car, with every piece of information available in one place. As some say, the more ways to buy a car the more satisfied customers.
If you scroll down, see a list of the most popular car makes with an average price and a number of ads available for each model. What's more, you will find a similar list on the right, presenting the same data but for the most popular car models.

One of the most helpful and useful tools on the page are charts showing the average price of a specific car and how it is trending over the past 90 days.
This allows both sellers and buyers to choose an ideal time to make a transaction and check how pricing compares over time.
If you are not sure yet what model or brand you are looking for, but know more or less what sized car you are after, there is an option for that as well. You can click on a picture of a car and browse by body type. For example, hatchback, SUV, sedan or others.
For those who are still not impressed with such a variety of options, there is even more to find on the website.
One of the most useful features is a table presenting all active cars on Gumtree. Choose a brand, click on a model you like and you are automatically taken to the page with detailed data about that specific vehicle.
The new car-price section on Gumtree is worth a visit – with well informed price and car information available, for today.