May 3, 2007
Nokia announces 7 entry level phones in India
by Dhiram Shah

Reinforcing itself in the ever expanding emerging markets Nokia today announced 7 new entry-level phones in New Delhi, India.
Nokia 1200 and 1208 have unique features like cell-tracking, multi-phonebooks which make phone sharing simpler and more efficient and a call-time tracking feature which allows consumers and village phone entrepreneurs to pre-set a time or cost limit on individual calls, automatically ending the call after the limit has been reached. The phones will be available by 2Q 2007 at just $47 and $55.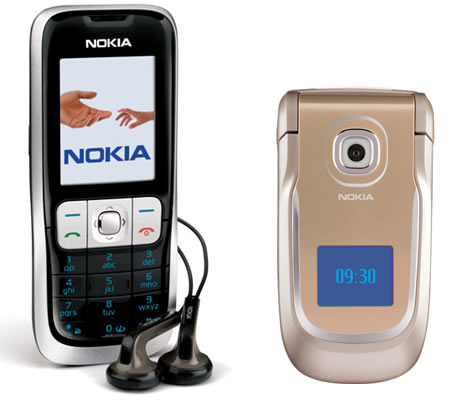 The Nokia 2630 and Nokia 2760 sport a stylish design and each model also offers easy-to-use cameras and Bluetooth technology, enabling customers to take their entertainment with them wherever they go. The 2630 is the thinnest handset in Nokia's portfolio at a mere 9.9 mm it will be available in 3Q 2007 for $115 and the 2760 for $122.


The Nokia 1650 and 2660 sport contemporary metallic accents and strong feature sets, offering consumers more features and a higher level of design than would be expected from such affordable devices. The phones will be available for $55 and $115 respectively.


Nokia 2505 is one of Nokia's sleekest fold-style phones for the CDMA market, the Nokia 2505 offers a unique smooth-back design that makes the phone as ergonomic to hold as it is to carry in pocket or purse. The Nokia 2505 is expected to be available in selected markets in Asia/Pacific, Middle East, Africa, China and Latin America during the 2nd quarter of 2007.