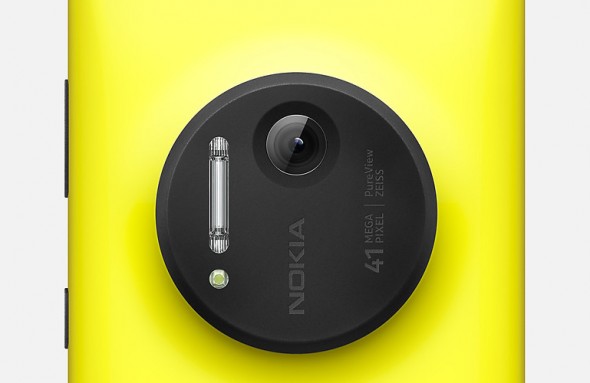 July 12, 2013
Nokia officially launches Lumia 1020 with 41 MP camera
by Sayan Chakravarty
Nokia has finally unveiled Lumia 1020, in a New York event named Nokia Zoom Reinvented, which has managed to become one of the worst affected smartphones by constant leaks. Hours before the officially launched, every single details of the smartphone, originally codenamed Nokia EOS, was leaked quite neatly, and it's sad to say every bit of it was true. Though, we tech writers love leaks, but a little mystery should be kept intact which can make us leap out of our seats like kids during the event. Otherwise it becomes just another boring day. We wrote about all the leaks in details in our previous Lumia 1020 entries and it's almost worthless to go about it again. Anyhow, there are a few bits and pieces that can be salvaged out of the event which are interesting enough to talk about.


Stephen Elop put up a brave face and took to the stage to restate the already known. Lumia 1020's centrepiece is its massive camera and Nokia made an astute decision of solely focusing the event on it. Claiming to be a game changing smartphone camera, Elop one by one demoed the features of the monstrous 41MP shooter, which is pretty much an improved version of Nokia's 808 Pureview camera sans its ugly casing which became a huge flop.

The few things different than Nokia 808 Pureview are; a slightly smaller 1/1.5 BSI sensor, 6-lense ZEISS optics and Optical Image Stabilization. It can now also shoot a 5MP and a 40MP photo at once unlike its old cousin. It is coupled with LED flash used for video shooting and a proper xenon flash. Lumia 1020 will ship with Nokia's Pro Camera and Smart Camera lens apps that'll give a lot of options to the user to tinker with. There's also a full manual mode to set the exposure time which was demonstrated on the stage. The image quality of the photos taken by Lumia 1020 is much better than any other smartphone and is in no way inferior to any mid-ranged point and shoot camera.

We were more interested to know about the Camera Grip that was also leaked. It'll come for a price of $75 and will transform the smartphone into a proper camera thanks to its tripod socket. It also has an external 1020mAh battery which will take the burden away from the weak 2000mAh internal battery. Nokia has also released a new imaging SDK.

The hardware under the hood added to the anticlimax and almost everything was known before hand. It's powered by a Snapdragon S4 chipset with a 1.5GHz dual-core Krait CPU, 2GB of RAM and 32GB internal storage and as usual Nokia and Microsoft have partnered to provide 7GB of free SkyDrive storage. It's nothing but Nokia Lumia 925 coupled with a humongous camera which doesn't look good either. It'll be available on AT&T from 26 July and will come for a rather steep price of $299.99 with a two-year contract.

Somehow Nokia has failed us again, and rather than introducing something new it's gone with its old trick which surely isn't working for them. For an ailing ship to survive a storm it has to steer clear of it and rather Nokia is moving the wrong way. It's only how much bashing one brand can take. Some fans are still valiantly defending Nokia's move and personally I want Nokia to do well, after all we all grew up with Nokia branded cellphones. The best bit of the event was the last comment Elop made. "The single most important component of a camera is the twelve inches behind the camera," Elop said which is funny but rather true. I loved the comment!