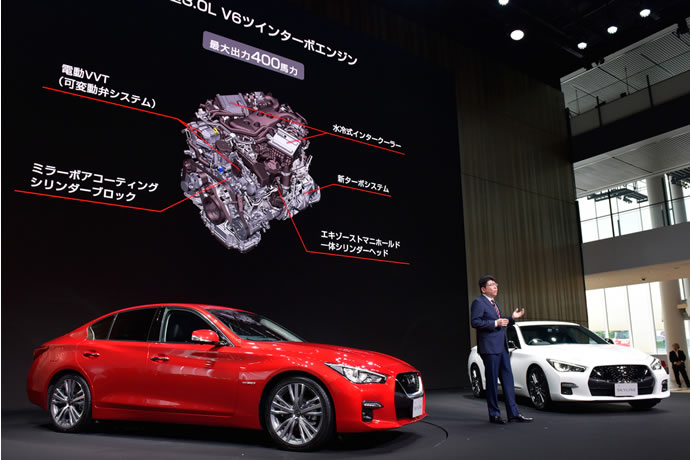 July 16, 2019
Nissan unveils new Nissan Skyline with updated styling and ProPILOT 2.0 driver assistance system
by Dhiram Shah

Nissan today unveiled a new Nissan Skyline, with updated styling and ProPILOT 2.0 technology – the world's first driver assistance system to combine navigated highway driving with hands-off single-lane driving capabilities. Designed for the on-ramp to off-ramp (ramp-to-ramp) highway driving, ProPILOT 2.0 engages with the vehicle's navigation system to help maneuver the car according to a predefined route on designated roadways. For the first time, the system also enables hands-off driving while cruising in a single lane. To enable these new functions, drivers must first set their destination in the navigation system, creating a predefined travel route.



The refreshed front exterior design communicates the Skyline's sportiness and includes Nissan's signature V-Motion grille. Prominently displayed in the center of the grille is the front radome, which integrates a radar sensor used with ProPILOT 2.0 and the Nissan badge. The rear features a sleek redesign and reintroduction of the Skyline's iconic four-circle combination lamps, treated in full-LED illumination.


For the interior, Nissan has further enhanced the functionality and sense of quality befitting of an advanced sports sedan. HYBRID versions are the first Nissan in Japan to adopt a full-color heads-up display. Dedicated ProPILOT 2.0 features include a large 7-inch Advanced Drive-Assist Display in the meter stack.


New Intelligent Dynamic Suspension (IDS) offers precise control of the damping force of the suspension, corresponding to the driving scenario. By reducing vibrations transferred through the vehicle structure, it lets drivers experience excellent operational stability during a spirited drive and impressive ride comfort. Direct Adaptive Steering (DAS) improves responsiveness and enhances line traceability while also minimizing steering sensitivity at low to medium speeds. This results in improved steering comfort at city speeds and predictable steering response at highway speeds.


The new Nissan Skyline comes in 10 exterior colors and in four grades: GT, GT Type P, GT Type SP and 400R. The 400R grade boasts 400 hp at 6,400 rpm and 475 Nm maximum torque at 1,600-5,200 rpm. Additional powertrain options include a 300 hp version of the VR30DDTT engine for the non-400R grade, and VQ35HR-HM34 engine for HYBRID drivetrain versions. Going on sale in Japan this fall, the new Skyline carries on the tradition set by the first Skyline in 1957, with each generation adopting the most advanced technologies of the time.