November 1, 2013
Google launches Nexus 5, here's a quick specs breakdown
by Shayne Rana
Google's next generation Nexus handset i.e. the Nexus 5, has been launched alongside the 4.4 update for the Android OS aka KitKat (include link to previous post). Although it bears a sticking resemblance to the Nexus 4, also manufactured by LG, there are quite a few hardware upgrades to compliment the updated OS.


Let's start off with the design –
The most significant upgrade to the build is the dropping of the rear glass panel that proved irksome for most Nexus 4 users. Although it's not confirmed it looks like LG's gone with a more traditional polycarbonate, plastic detail in a matt black or white finish. Personally, I'm relieved.
They've shaved of a few millimetres to 8.6mm in depth. The Nexus 4 was 9.1mm. It also weighs only 130g which is a little lighter than its older brother.
The TrueHD IPS Plus display type is still in play but evolved to a full HD (1080p) resolution and increased in size to 4.95-inches with Corning Gorilla Glass 3 in it's slightly longer, broader shell.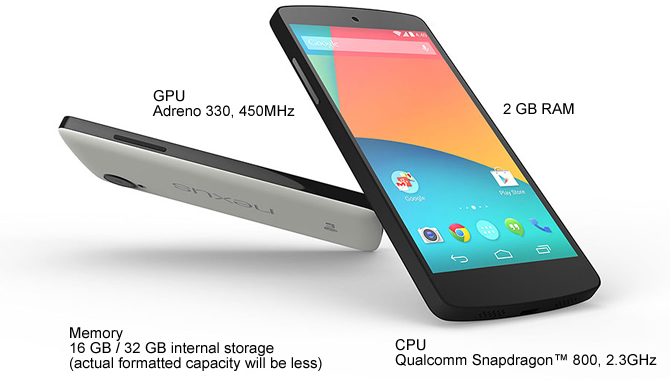 Hardware specs include –
A Qualcomm Snapdragon 800 Chipset with a Kriat 400 processor clocked in at 2.3 GHz and an Adreno 330 GPU. The 2 Gigs of RAM stay put but the Nexus 4 will be available only in 16/32GB capacities. No more 8GB devices.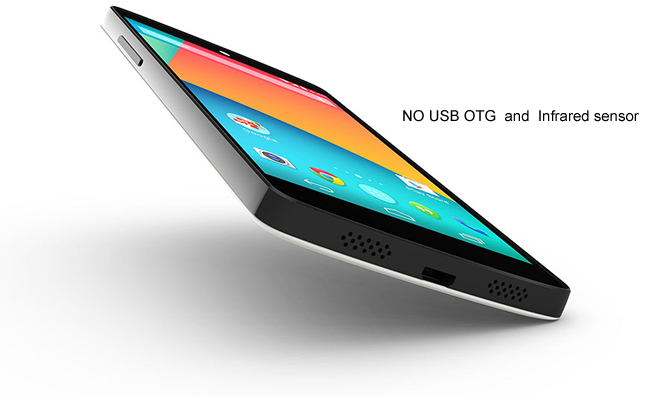 I was hoping that LG and Google would have upped the power capacity of the device to support USB OTG and include an Infrared sensor. Sadly they don't seem to have added those components. This is about the only disappointing news regarding the Nexus 5.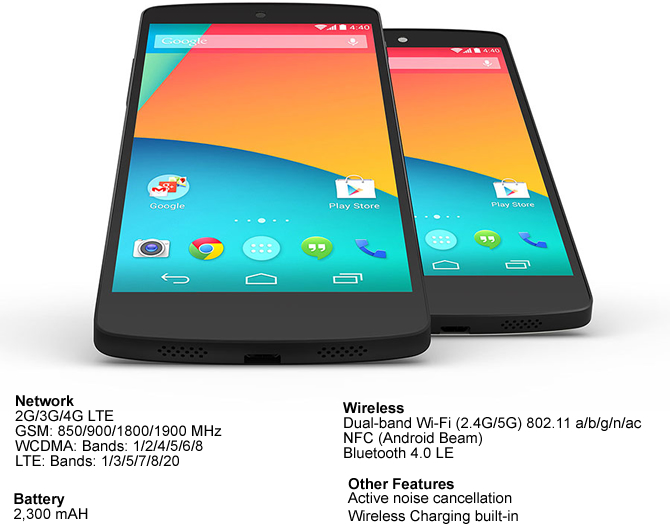 The Nexus 5 is 4G/LTE capable with dual-band WiFi, hot spot creation, NFC, Bluetooth 4.0 with A2DP, GPS with AGPS and GLONASS support. It also supports wireless charging.
The battery capacity is 2300 mAh a little better than the previous edition.
Active noise cancellation is also on the cards thanks to a dedicated microphone.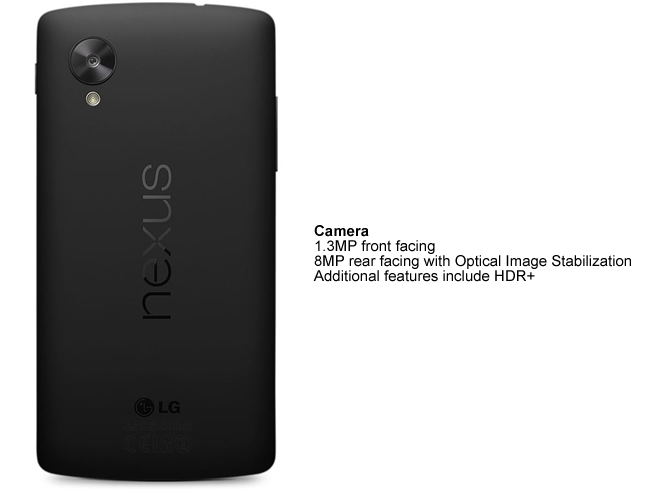 Camera –
Although the camera's 'mechanics' have been improved with the addition of optical image stabilisation and a more advanced lens, the resolution is still stuck at 8MP. Not that it matters to me personally. Additional features include HDR+ that captures a burst of pics and moulds them all to give you the best possible picture. The LED flash, geotagging and Photo Sphere are still present along with some of the usual setting options.
The 1.3MP forward facing camera is still on board.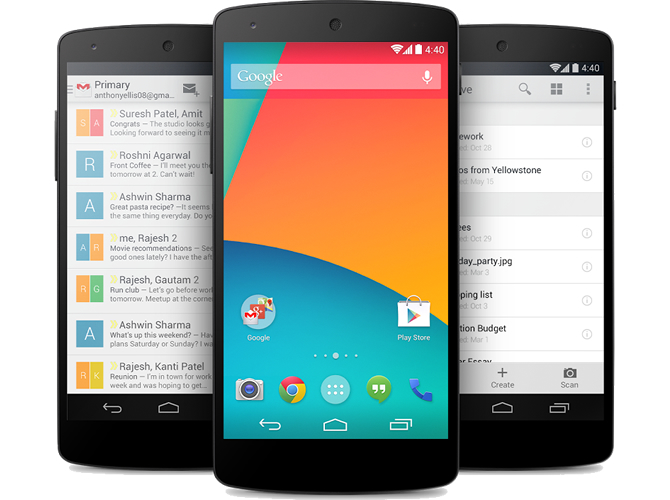 Naturally all the choco-wafer goodness of 4.4 KitKat will be present and accounted for as well. The Nexus 5 is already available via the Google Play Store, unlocked and without a contract, in the U.S., Canada, U.K., Australia, France, Germany, Spain, Italy, Japan and Korea (and coming soon to India), starting at $349 for the 16GB edition and $399 for the 32GB veriosn. Just in the time for the holidays, Nexus 5 will be available soon at the following retailers: Sprint, T-Mobile, Amazon, Best Buy and RadioShack.
[Via – Google-Play]