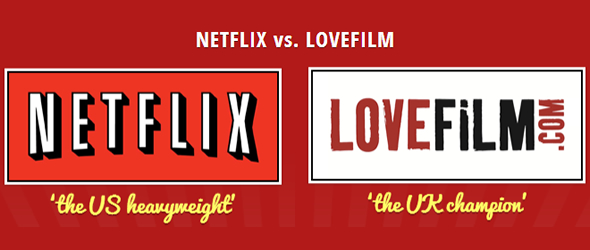 January 30, 2013
Netflix and LOVEFiLM
by roshan
Want to watch a movie but don't want to have to leave home to rent one? Well, this dilemma is now a thing of the past thanks to online movie streaming services. These services allow one to watch movies that stream out across the internet into a supported electronic device such as a computer, smartphone, tablet, gaming system or even your television. In the United Kingdom, LOVEFiLM has for a long time now had this particular market cornered until about a year ago. At that time, the previously American Netflix introduced their streaming service to the UK. This has lead many consumers to decide for themselves which service is the best in the current LOVEFiLM vs Netflix debate.


While Netflix has taken the largest market share in the United States, LOVEFiLM still leads in the United Kingdom. Here, customers can subscribe to their unlimited streaming service for £5.99 a month. This is fairly inexpensive although the rate charged by LOVEFiLM is lower at just £4.99 a month. Both services can support a variety of technological devices. However, each service does offer compatibility with some devices that their competitor does not. For example, if you own an Apple TV, Netflix can only be run on it. However, LOVEFiLM does offer a mail order DVD service which still makes it possible to subscribe to LOVEFiLM since they also offer this other service. Netflix does not provide a mail order service in the UK.
Another similarity between the two rivals is their offer of a free month's trial for new customers. People wanting to try the services out before subscribing can take advantage of the Netflix free trial as well as the one offered by LOVEFiLM. To answer the question as to which service is better is probably best answered by the consumer at home. These free trials provide the perfect way to determine this answer.