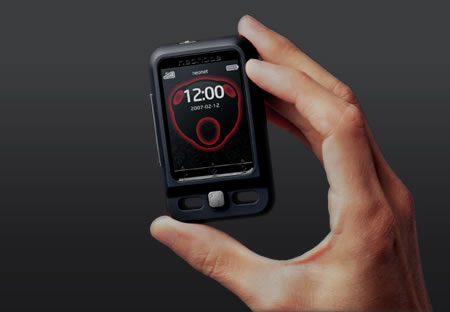 3 comments
February 12, 2007
Neonode N2 another iPhone rival
by Dhiram Shah

Way back in 2004 the smartphone revolution was starting to pick up and the Neonode N1 was announced, it was like the iPhone of that time and any smartphone buff would want to lay his hands on one, as it was the most stylish smartphone of its times. But the excitement ran out of steam as the N1 was faced with in-numerous delays but the bright minds at Neonode are ready to strike again with the N2 and it seems they were really working hard. The N2 like its predecessor is feature packed and small enough to fit in the palm of your hand. It supports Quad band SM (850 / 900 / 1800 / 1900) thus can be used in any GSM network, too bad it only supports GPRS so no 3G for you. It has a proprietary Neno user interface and a patented screen technology with light beams forming an invisible grid over the screen and the location of your finger is detected when the beams are crossed. It has no keypad but has an an on-screen keyboard and all the phone can be easily operated with one hand as you just sweep over and tap the screen to access the different features. The phone has a 2.0 inch screen (176 x 220 pixels) supporting 65k colors (we were expecting at least 256k colors) and a 2 Megapixel camera with support video recording MPEG-4 format.

The Nenonde N2 supports playback of majority of media formats. Other features include Bluetooth connectivity (Obex, Headset, FTP profiles), Mini SD card slot for memory expansion, Vibration motor (The N1 did not have it), USB, mono loudspeaker along with Calendar and Address book synchronization using ActiveSync. The N2 measures 47x77x14,7 mm and weighs just 75 grams. Its battery provides 240 mins of talktime and 200 hours of standby time. The N2 will be available in black, silver and pink ya girls loves smartphones too. Pricing and availability is not known yet.
I wont call the N2 as an iPhone killer as it lacks many crucial features like Wi-Fi, onboard memory, etc, but as far as looks as concerned it is really a step ahead of the iPhone.