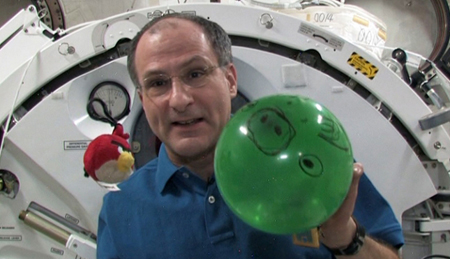 March 9, 2012
NASA flight engineer uses Angry Birds to explain microgravity
by Gavril Mankoo
Microgravity gets interesting when explained with a bunch of characters from a bestselling
mobile phone game, or so thought NASA astronaut and International Space Station flight
engineer Don Pettit. This video we stumbled across recently has Pettit explaining the finer
sides of microgravity using characters from Rovio's Angry Birds franchise. Besides just a lot
of thoritical explaining, Pettit also managed to create a slingshot and have an Angry Bird toy
flung around the station. With the new Angry Birds Space version scheduled to be launched on
Android, iOS, OSX and Windows in the near future, Pettit's video seems to have showed up at
just the precise time!



[Via BGR]