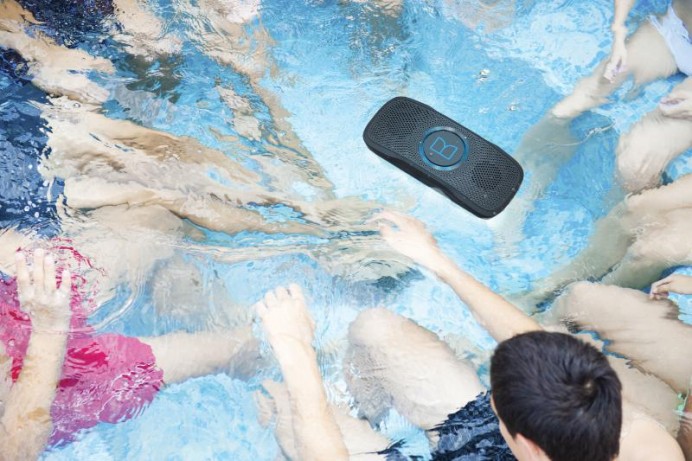 January 9, 2015
Monster Launches Superstar Backfloat, the Bluetooth Portable Speaker You Can Take to the Pool
by Shayne Rana
In the realm of portable speakers, having a device that's capable of going with you everywhere, even in the pool, is always a plus. Monster, the company that specializes in personal high-end audio solutions, has just unveiled their SuperStar BackFloat portable speaker at their booth at CES 2015.

Staying true to its name, the SuperStar BackFloat is designed to provide pool goers with the best possible audio while engaging in water related activities. In essence though, it's a portable speaker that you can take pretty much anywhere; the beach, pool, in your shower (if that's your thing) etc. It can sustain in quit e a few outdoor locations. Integrated with the company's highly acclaimed Pure Monster Sound engine, this Bluetooth enabled speaker also features built-in microphones so you can even take calls while splashing around. Of course privacy goes out the window in these outdoor conditions. An Aux Line In option has also been provided. Monster says that the speaker has been specially optimised for mobile devices that include phones, tablets, and even compatible PCs.
Head Monster Noel Lee noted: "With the tremendous popularity of smartphones and other portable music solutions, the year over year sales growth in portable wireless speakers is 200% in units sold. With SuperStar BackFloat, anyone's musical universe can be expanded to the shower, pool or beach."
The SuperStar BackFloat is has been priced at $169 (MSRP). A tad pricey but considering its USP, not too bad.