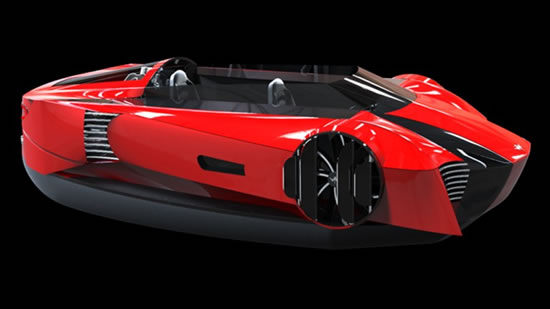 1 comment
August 2, 2012
Mercier-Jones concept hovercraft aims to glide in a new age in transportation
by sam
A hovercraft is not the thing that comes to your mind first when you think of transportation and there is a pretty good reason why it is not used except under rare conditions. Maneuverability and ease of handling have always been big issues with the, but the duo of Michael Mercier and Chris Jones intend to change that perception by radically altering the popular form of the hovercraft. Inspired by modern luxury sports cars, the cousins have created a system of propulsion that will not only help the motion of the hovercraft, but will help increase control as well.


By creating ducts in the sides of the hovercraft, the duo intends to address the maneuverability issue, which is obviously the main hindrance. Add to it carbon fiber frame and technology generously borrowed from marine, automotive and aerospace industries and they intend to create a small-sized hovercraft that can replace your car to a very large extent!

Of course, making one at $20k is the biggest challenge and as they race to raise funds on indiegogo by selling their idea to those who are willing to back their dream, one hopes that the gasoline-electric hybrid hovercraft goes beyond being just a pipedream.
[Gizmag]