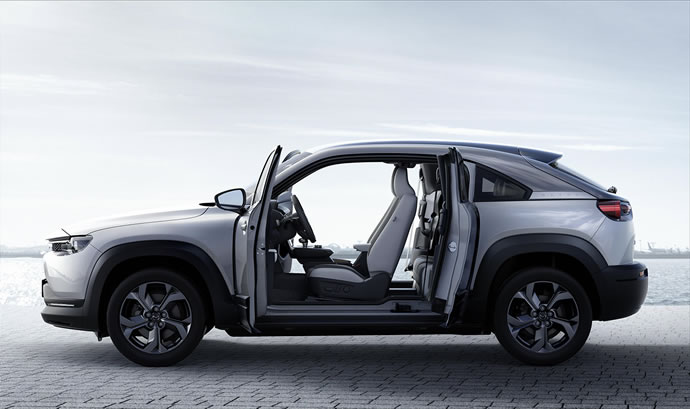 October 23, 2019
Mazda Unveils its First Mass-Production EV Mazda MX-30 at 2019 Tokyo Motor Show
by dhiram

Mazda unveiled its first mass-production electric vehicle, Mazda MX-30, at the 2019 Tokyo Motor Show. A new addition to Mazda's car lineup, the MX-30 is the automaker's third new-generation model. Aiming to offer an experience that lets customers relax and be themselves and deepens the bond between car and owner, the model offers a creative time and space that invites new ways of using a vehicle.



Under the Car-as-Art ethos, the styling of MX-30 aims to raise its artistic value and expand the expressive range of Mazda's Kodo—Soul of Motion design language. Based on a concept of Human Modern, the design stays grounded in the beautifully honed, handcrafted forms of Kodo, yet aligns itself with changing values and new lifestyles. Spaces in and around the center console give the cabin an open feel, and environmentally conscious materials such as cork and fabrics made from recycled materials are used in ways that bring out their natural appeal, creating a comfortable interior space.


The Mazda MX-30 adopts freestyle doors so customers can invent new and creative ways of using the car. The adoption of the freestyle doors not only enhances functionality but opens up a wide range of new and creative uses for the MX-30. Mazda hopes that, in addition to enjoying the drive, customers will use the car creatively and make it truly their own. In line with the human-centric philosophy, Mazda engineers were determined to deliver the same Jinba-ittai driving joy that every Mazda offers in the EV as well.


Mazda MX-30 is equipped with its enhanced advanced safety technology, i-Activsense. Specifically, our injury and damage-mitigating brake technology, Smart Brake Support (SBS), adds a collision prevention function at intersections. Another new technology assists avoiding deviation from the driving lane through monitoring the curb, in addition to lane markings. The model adopts Mazda's new electric-drive technology, e–Skyactiv, and combines outstanding response with smooth dynamic behavior to achieve performance that drivers can enjoy naturally.


Despite the MX-30 adopting Mazda's center-pillar-less Freestyle door system, excellent collision safety performance is achieved through a rigid body and structures that efficiently absorb crash energy. In addition, the frame structures pay minute attention to the protection of the high-voltage battery. The MX-30 incorporates these latest safety philosophies and technologies to enable safe and joyful driving.