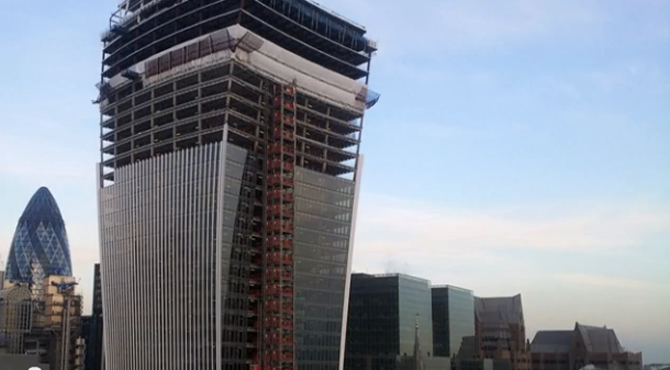 September 5, 2013
London's skyscraper melts Jaguar like a snow cone
by Sayan Chakravarty
Walk through the streets of Central London and a distinctive feature in the skyline will dazzle you, well quite literally. A £200million skyscraper 20 Fenchurch Street or better known as the Walkie Talkie due to its shape has been in the news for some very odd reasons. The 37-story building covered in glass has been secretly melting cars! A Jaguar XJ owner got a rude shock when he found parts of his car, parked near the building, melted.


BBC reported the story tagging the building as unsafe and dangerous. England has been experiencing one of the hottest summers this year and the extreme glare of sun reflected by building seems to have done the damage. Though modern cars undergo extreme weather testing but it seems the Jag couldn't sit this one out. Martin Lindsay, owner of the Jaguar, received a bill of £946 ($1600) for repairs which was reimbursed by the developers constructing the building.
BBC tweeted pictures of the damaged plastic bits like the OVRM and the side panel of the car. After the incident, 3 parking spots near the building have been suspended from being used. The locals have renamed the building 'Walkie Scorchie'.
[Via – Cnet]