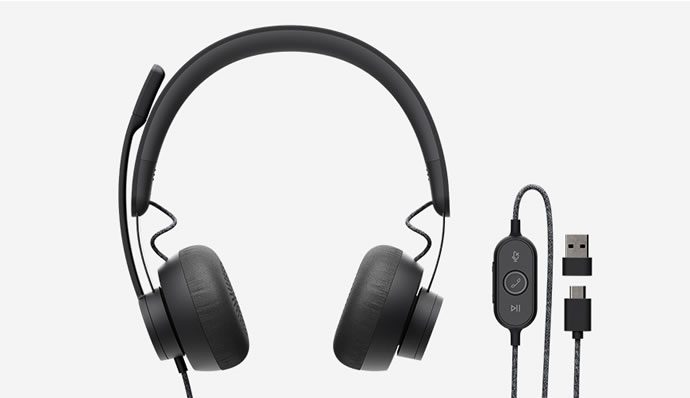 February 7, 2020
Logitech Announces Open Office-certified USB Zone Wired Headset
by dhiram
Logitech announced it is expanding its video conferencing solutions for the entire work environment and enhancing the personal workspace with its upcoming Zone Wired headset. The new Zone Wired headset is designed with premium audio drivers for optimal calls or music listening and a sleek in-line controller for quickly muting, playing or pausing audio. The headset includes a tangle-free cable and USB Type-A or Type-C connectivity, offering more versatility, and is compatible with the Logi Tune mobile and desktop apps. Zone Wired is designed with generously-sized 40mm drivers to deliver pure happiness for your ears. 
Zone Wired features Microsoft Teams' premium microphone for open office, enabling the mic to remove neighbors' conversations from being overheard on your call. Additionally, the Microsoft Teams version of Zone Wired includes a unique Teams UI and in-line control button, making it easy to launch a Microsoft Teams meeting with a single click, pick up and answer a Teams call, and use voice skills with Cortana by long-pressing the button.
Zone Wired is lightweight, stylish and designed for all-day use. The Teflon-coated stainless steel headband features a silicone head cushion and memory-foam ear pads that provide a comfortable fit throughout the workday. The headset can be used with popular calling applications such as Zoom, and Zone Wired will also be bundled with Logitech webcam solutions to complete personal workspace setup.
With this new headset, Logitech now has a complete modern portfolio of both wired and wireless headsets. Logitech Zone Wired Unified Communications (UC) and certified for Microsoft Teams versions will be available in spring 2020 with MSRP starting at $129. Personal Collaboration Kits with Zone Wired included will also be available later this spring and range from $249 – $299.