March 23, 2015
Limited edition R2-Q5 Bluetooth enabled virtual keyboard should be out in time for Star Wars Day
by Shayne Rana
Let's face it, Star Wars is never going to have enough memorabilia, gadgets, gizmos, toys, T-Shirts etc, etc etc to ever quench our thirst for owning something that's related to the epic saga. Here's just another example of someone cashing in one of the franchises most memorable characters – a while ago a company called Electronics brand imp. (formally amadana imp.) released a Bluetooth enabled virtual keyboard projector that was housed inside an R2-D2 styled design. It was a big hit among sci-fi fans and techies who follow the same genre. The company has now announced a variant to the same virtual keyboard, only this one features another (lesser known) droid – R2-Q5 who is decked out in Black and Bronze and featured in a couple of the Star Wars flicks.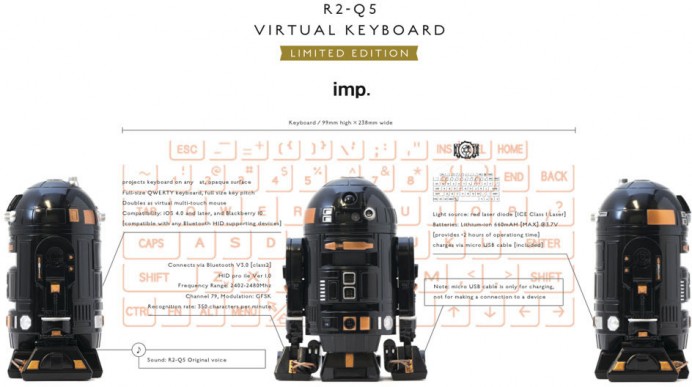 Based on almost the same schematics as our lovable little beeping droid edition, the R2-Q5 is also a Bluetooth HID enabled device that plays nice with Android, iOS, Windows 7/8 and Mac OS X. Like its predecessor, this edition also projects a (red) full QWERTY keyboard onto any flat surface and functions as a virtual keyboard for your connected device.
The R2-Q5 will also make a great collector's item for those who love all things Star Wars and should be out just in time for Star Wars Day," on May 4th. It'll be available on Amazon Japan and runatown.com where the listed price is showcased as $280 (¥33,480 JPY). Just in case you're wondering why it's so expensive, that's because it's limited edition so you might want to get your orders in early; preorders have begun.
[Via – Impress]