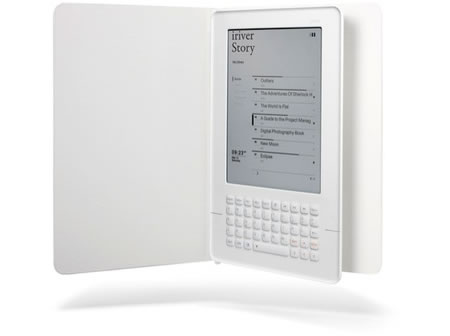 June 16, 2010
LG Display ties up with iRiver for E-ink displays
by Dhiram Shah

LG Display and iRiver have entered into an agreement for the OEM development, production and sales of e-Books. The companies would form a joint venture in China with aim of producing 1 million units per year by 2011. Furthermore, production may be expanded to include new applications such as e-Textbooks and e-Newspapers. No details are yet available on the readers which would be equipped with new displays.
[Press release after the jump]

Seoul, Korea (June 14, 2010) – LG Display Co., Ltd. [NYSE:LPL, KRX:034220], a leading innovator of thin-film transistor liquid crystal display (TFT-LCD) and Electronic Paper Display(EPD) technology, today announced plans to establish an e-Book joint venture with iriver, the e-Book leader in Korea, to reinforce its presence in the fast-growing global e-Book market.
LG Display signed an agreement with iriver to establish a joint venture for the OEM development, production and sales of e-Books. The agreement is subject to approval by the board of directors.
Under the agreement, the two companies will establish a joint venture named L&I Electronic Technology (Dongguan) Limited in Dongguan , Guangdong Province in China after receiving approval from relevant authorities. LG Display and iriver will each make equity investments of 51% and 49% respectively for initial capital of USD5 million.
The joint venture will start production at iriver's existing e-Book plant in Dongguan this September with a goal of reaching 1 million units in annual production by 2011. Furthermore, production may be expanded to include new applications such as e-Textbooks and e-Newspapers.
In particular, by leveraging LG Display's cutting-edge EPD technology and iriver's e-Book product development capacities, the joint venture will be equipped to provide customers with the choice of Original Design Manufacturing (ODM) or Original Equipment Manufacturing (OEM).
Through the joint venture with iriver, LG Display will be able to further expand its customer base by securing a stable and long-term EPD customer. Additionally, its entry into the e-Book set industry will allow LG Display to assume a larger role in the e-Book market, which is emerging as a next-generation growth driver, with differentiated products that possess technological and price competitiveness.
LG Display's Executive Vice President and Head of Mobile/OLED Business Unit Mr. Eddie Yeo said, "LG Display decided to establish a joint venture with iriver to supply customers with more competitive products as part of our upstream-downstream business transformation strategy. LG Display will utilize its advanced EPD technologies to achieve early commercial production of color and flexible EPD and reach the global No.1 position by 2012."
Mr. Jae Woo Lee, CEO of iriver said, "The joint venture is significant in that iriver has now secured the foundation to produce more stable and competitive products. Once our mutual technical and manufacturing abilities start producing synergies, I am confident that our joint venture will grow into a leading global producer of e-Books."
According to market researcher DisplaySearch, the e-Book market is expected to reach from an estimated USD350 million in 2009 and double in size annually to hit USD1.2 billion in 2011 and USD1.73 billion in 2015.