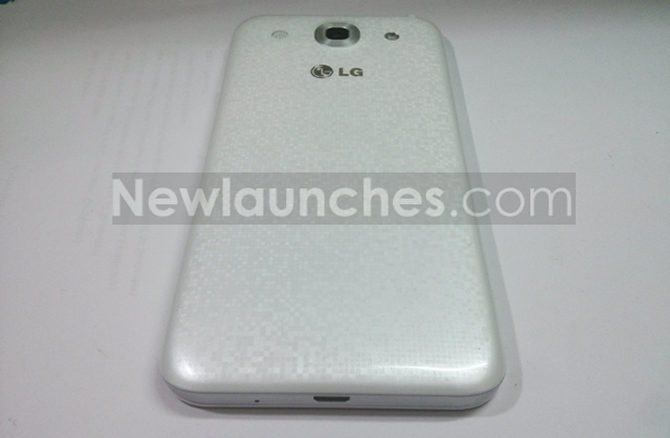 September 5, 2013
LG Optimus G Pro Review
by Shayne Rana
The Optimus G Pro is LG's answer to the Note II. The big screen smartphone is the latest rage and while it's not my (rather large) cup of tea, I certainly appreciate the requirement, up to a point. With the Optimus G Pro, I believe that point has been reached. Any device larger in size would not qualify as a smartphone nor a phablet, it will be a tablet.


Let's talk design
The G Pro is just as large as the Note II and also quite similar in dimensions and design. It's a narrower version with a smaller Home Button (and rear LED notification lights) below a 5.5-inch Full HD (1080 x 1920) IPS PLUS LCD touchscreen. Colors and the overall contrast ratio on this display are great, black levels are quite sharp. What unnerved me was the slight imbalance in the handset's weight distribution; it seemed to be a little top heavy.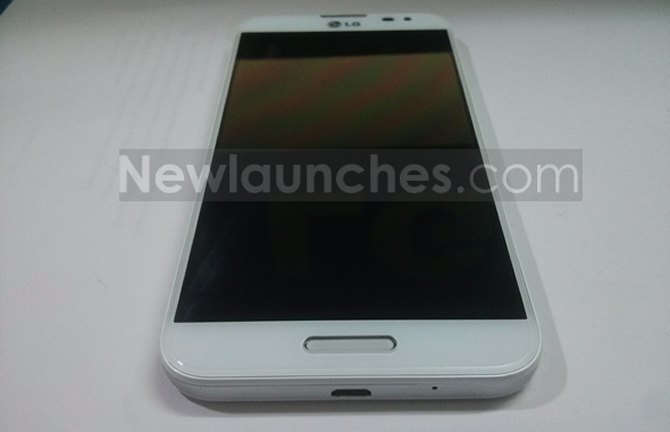 I love the BlackBerry-esque QuickButton function key located at the top on the left side just above the volume rocker. It's easy to reach with you right index finger or left thumb. There are also very handy apps that can be assigned to this key for instantaneous access. An IR sensor is placed near the 3.5mm handsfree socket at the top, a power button on the right side and a micro USB/MHL and USB Host compliant port at the bottom.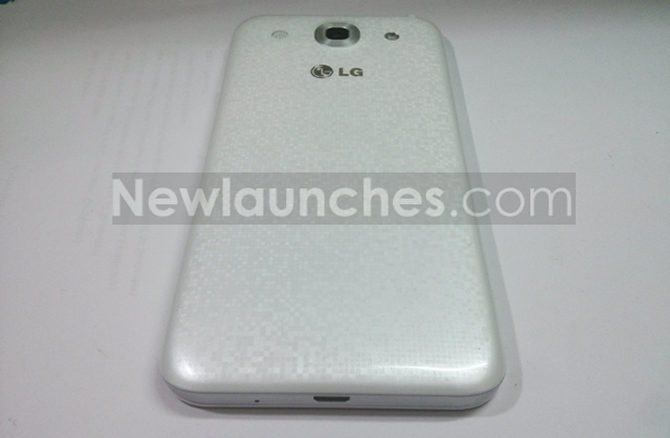 The body doesn't quite give off a real premium quality feel, just like the Note II. Its rear panel (removable) has a similar matrix style design as the Nexus 4 but doesn't feel like it'll shatter to bits on impact. You'll find the NFC and wireless charging antennas stuck to the underside of this panel. The G pro is available in 16 and 32GB editions with microSD card (hot swap) support for additional memory (64GB cards supported).

Features galore
Under the hood the G Pro runs Android 4.2 Jelly Bean off of a quad-core, Qualcomm Snapdragon 600 processor clocked at 1.7GHz with 2GB RAM and an Adreno 320 GPU. All of this makes the handset super speedy and the UI extremely fluid. Mind you this is certainly not the fastest handset in its class as benchmarks (see below) will tell you, but the overall functioning was nevertheless a non issue, if it came to playing Gameloft's newly launched Asphalt 8, or watching Full HD videos and multitasking.
The tweaks in the UI include a Quick Settings bar in the Notification tab menu that can be edited according to your preference and just like the QSlide apps options below it. Like Samsung, LG has also incorporated a few smart features into the UI – flipping the handset will silence calls and alarms and even pause videos, Smart Screen features use the sensors to keep the display on as long as you're looking at it or pause a video when you look away. It's eerily similar to Samsung's S functions. What's missing here is split screen action and S Voice.
The G Pro also comes with sound profile settings, theme options for the UI, a Smart ringtone setting that adjusts the volume based on ambient sounds (very neat) and a rather handy Quite Time feature that will automatically reduce your notification volume etc. based on a preset time of your choosing. And since this is a large screen device, the G Pro also has facilities for one handed operation to move the keypad to the left or right side of the screen. The QuickMemo app is very handy. It lets you scribble notes on the screen and then save them as screenshots or notepad entries for later.
Other than that, LG has thrown in quite a few apps to enhance the devices value starting with – LG Backup, Polaris Office 4, Quick Translator, Safety Care (emergency contact app), LG SmartWorld, and LG's SmartShare app for DLNA and network sharing functionality.

In the connectivity department…
LG's loaded up the Optimus G Pro with all the connectivity they could. From Dual band Wi-Fi complete with DLNA, Hot spot, and Wi-Fi Direct to NFC, Bluetooth 4.0 and LTE (where applicable), the G Pro has it all. The IR sensor also comes with a Quick Remote app that I found easier to set up than the one on the HTC One.

Movies and Videos
I wasn't altogether too thrilled with playback via LG's bundled headphones as they seemed to lack some audio depth. My TDK EC42s made great use of the Dolby mobile sound enhancement engine. The other presets also made a difference but the customizable eight channel graphic EQ always makes my day. The player itself is simple enough with a direct link to locating corresponding videos on YouTube and plenty of viewing options from playlist view to albums, artists and even Folder view (my personal favourite). The handset supports MP3, WMA, WAV, FLAC, eAAC+, AC3 formats.
In the video department, the G Pro supports full HD video playback provided the files are in MP4, H.264, H.263, WMV or DviX formats. That translates to most files working out fine via the old click and drag method and if they don't work, third party video players are always available for free. The player has a few little tweaks like a QuickSlide function that's almost identical to Samsung's Pop Up Play feature. While the video is minimised but still playing you can open another app from the QuickSlide list to use simultaneously. Dolby is also available via the in app settings. On the large HD display, watching videos was a real treat.
The lack of an FM radio could be an issue for users living in countries that have ardent radio fans.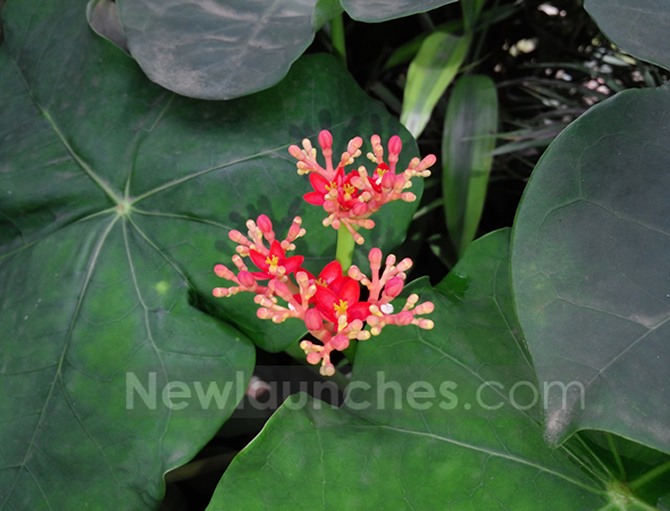 For the Photo Buffs
Equipped with an impressive 13 megapixel camera (LED flash), the Optimus G pro does very well in this department. With tons of digicam equivalent settings ranging from sweep panorama (and VR), to manual focus (an LG thing), scene modes, burst mode, Intelligent Auto, a dual camera feature (simultaneous front and rear cameras activated) and so much more. Naturally, since it's the in thing to have a series of images captured in the blink of an eye to review and weed out the best one/s, LG has incorporated what they call Time catch. This setting captures images in quick frames and then allows you to choose the best of the lot. The Cheese shutter system, when activated, lets you get in on the pic and shouting words like Cheese, Smile, Kimchi, LG or even Whiskey (yes quite a strange choice I know) for that matter, will trigger the shot.

Image quality was quite good with tight focus on important parts (touch focus also comes in handy here). Take a look at some samples.
The G Pro also has an 2.1MP camera up front that's capable of full HD video recording.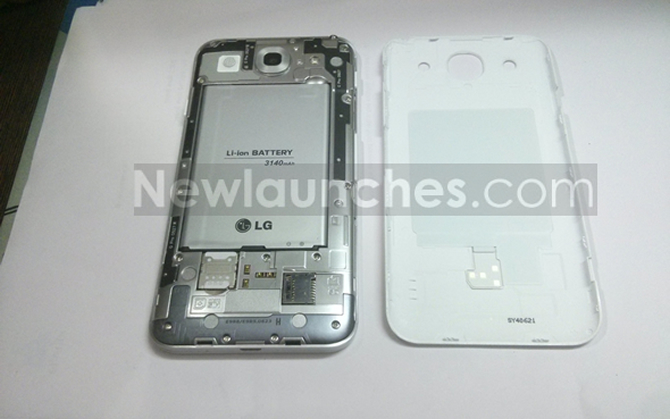 The Battery
The LG Optimus G Pro ships with a 3140 mAh battery that is most certainly an asset for a handset of this calibre. On a full charge I got over a full day's use which included – 3G and Wi-Fi, about an hours worth of music playback, around 25 minutes video and quite a few calls and messages via IM or text. I even got in a few photos that went online to my various social networking connections.

The Bottom Line
I can't say my experience with the G Pro has been less than memorable; in fact it's left quite an impression on me. But let me put it this way, I can't wait to get back to my Nexus 4, that isn't too big or too small but is just the right size a mobile should be. But for those of you looking for that larger device and don't mind the extra weight then the G Pro is definitely a device worth consideration. But do keep in mind that it all this doesn't come cheap.
Design and Ergonomics – 3/5
Features – 4/5
Connectivity Options – 4/5
Camera – 4.5/5
Media – 4/5
Overall – 4/5