October 10, 2013
LG G2 review
by Shayne Rana
Dropping the Optimus tag might have been a good call on this one. LG has come a long way in the last couple of years and the G2 is, as of now, their proverbial gold mine. There's plenty to love about the G2, price tag not withstanding, but it ultimately comes down to just that. Do the features and specifications justify the price? That's always the question at the forefront of decision making, especially when you're on the look out a high-end smartphone. So here's a quick looksee into the LG G2.


The Design
It's hard to say that the G2 is a groundbreaker in terms of design. While it does manage to fit in quite a hefty feature set (hardware and software together) into a really slim 8.9mm thick unibody form and still keep the weight under 150g (143g to be precise), the overall design isn't all that unlike the competition. Where the G2s design does meander away from the conventional is in the lack of any visible Android command keys (on screen), and any buttons on the sides. Moving the buttons onto the rear of the handset below the 13MP camera (with LED flash) isn't a stroke of genius, but it is clever. It might take a little getting used to as one would assume they would need to pick up the handset just to unlock the screen but LG has compensated brilliantly with their KnockOn screen tap function.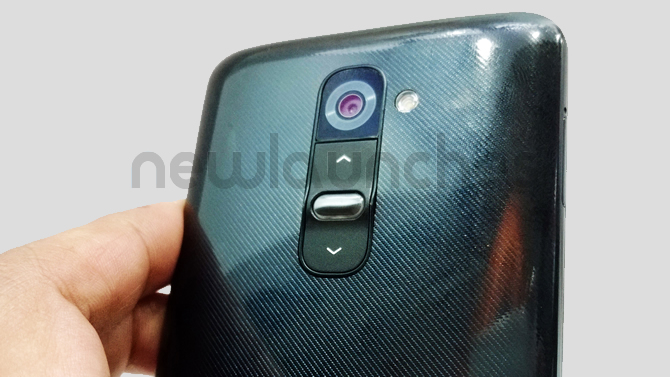 The Volume rocker and power button placement on the rear is comfortable enough for access with either hand. People with smaller hands might find it a tad challenging but no more so than if the buttons were on the side. This might be vastly different and a first for the mobile community but I did expect it to do a little more. For Instance I was hoping the power button was touch sensitive or the rocker keys would also serve as direction keys when scrolling through long documents or web pages. The silver lining is that unlike the competition, the Quick Window cover does not inhibit the use of any keys.

Speaking of the Quick Window cover, I'm not thoroughly impressed. I will admit that it adds a certain professional (with the more basic of colors at least) tone and feel to the device and the color variants would serve as a form of customisation, but no more. The screen is customised to feature only 3 displays – the music player, watch interfaces of which there are quite a few and weather and location page. Notifications like messages etc. cannot be read from this space and that would have been a real 'smart' feature to have. You can however answer and reject calls from within this area. Because the sensor is masked I found hanging up to be a bit of an issue – when you're done with a call there was a visible delay before the screen showed up so I had to open the flap to speed things up. Talking calls with the flap closed is just as easy as it is with the S4's Smart Cover option. I'm not sure I like this option for any phone. But that's just me.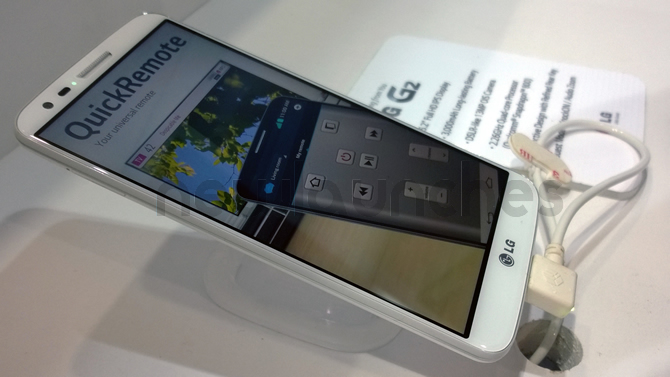 The 3.5mm audio jack is located at the bottom where one will also find a set of stereo speakers that are loud and clear and the micro USB port that supports OTG and Host services. The Mirco SIM tray is located on the left of the handset and an inconspicuous IR sensor is placed at the top.
The design might not be as revolutionary as stated but does have its appeal. The brilliant 5.2-inch full HD IPS display (Corning Gorilla Glass 2) with almost an edge-to-edge format is a pleasure to view. Having the command keys onscreen might take away a little from the overall screen space but it does help the device stand out and does give the G2 a smarter look. The LG G2 is available in 16 and 32GB editions with no physical option to expand memory. That's never a good idea especially considering the price tag on both.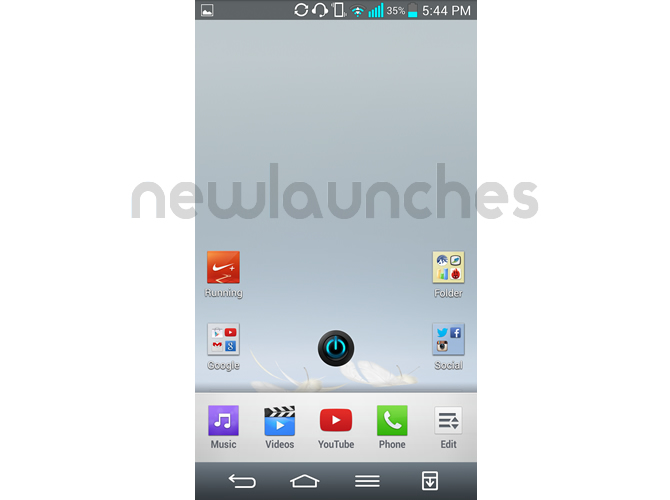 The User Experience
The LG G2 is just about the fastest phone I've used. Thanks to Qualcomm's Snapdragon 800 Chipset with a 2.26GHz Quad-Core CPU and an Adreno 330 GPU, finding visible lag in overall functioning is like looking for brush stroke errors on the Mona Lisa. With the exception of the camera that tends to have trouble focusing quickly in low light conditions all is very well here.
Quite a bit has come through from earlier editions like Quick Slide apps for multitasking, quick access app access from the lockscreen, etc. A few new additions to the UI include – Guest Mode that allows you to restrict the use of apps and functions to maintain your privacy and Plug and Pop – plug in your headphones or USB and a set of corresponding apps (that you can edit) will show up. Text Link, the feature that reads your SMS texts and intuitively offers a variety of solutions to work with in a pop-up menu – show addresses on a map, open links in the browser etc. didn't work too well for me unfortunately but I have seen it functioning on other test devices and it really is a handy 'assistant'.

The ability to choose from a variety of Android command key layouts is very helpful, however it would have been much better were it manually editable. Smart features like Smart Screen and Smart Video, although very intuitive on the G2 are not exclusive to LG as Samsung has identical functions on their high end devices along with One-handed Operations and a variety of gestures based functions – Flip to silence a call, turn off an alarm, etc. A few like the ringtone fading out when you pick up the handset to answer the call is useful. But Samsung's Direct Call type feature might have made a bigger impact.

LG Scored well on the benchmarks as well – take a look –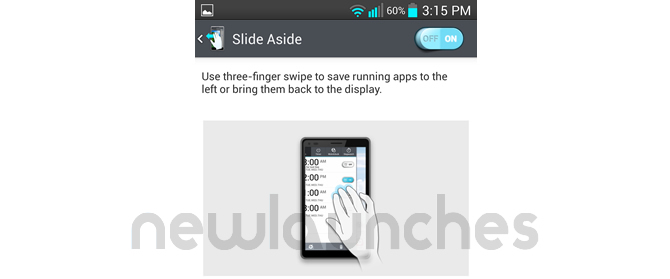 Other features like Slide Aside – three finger operation to multitask with apps you can choose, Voice Notifications and Smart Ringtone that adjust the volume based on ambient sounds are also very useful functions. Voice Mate, LG's answer to Siri and Samsung's S Voice, worked like a charm.

Media Capabilities
The G2 is no slouch when it comes to handling media. For starters, like the G Pro and others, the G2 is also equipped with Dolby's mobile sound enhancement technology that significantly boosts audio quality. Aside from presets in the music player menu, one could also choose to use the 8 band graphic EQ settings for a more personalised setting. Formats supported include MP3, WAV, eAAC+, AC3, WMA and even FLAC. There's also a folder view and play option for those who don't like creating playlists.
The G2 also handles Video playback very well and supports quite a few formats like – MP4, DviX, XviD, H.264, H.263 and WMV so most .AVI files will play without a hitch in full HD or 720p. The player has a few tweaks as well like Zoom to Track. It's a unique function that allows you to selectively zoom into a part (moving object) of a playing video. It's got no real world value but does make the player more interactive and fun to use. LG has also thrown in an intricate Video Editor app. Oddly enough, the camera has a function called Tracking Zoom (odd names I know) that opens up a moveable pane (variety of frames to choose from) on the screen that zooms into wherever the magnifying glass is placed. It's another fun feature that makes the camera one of the many things to love about the LG G2.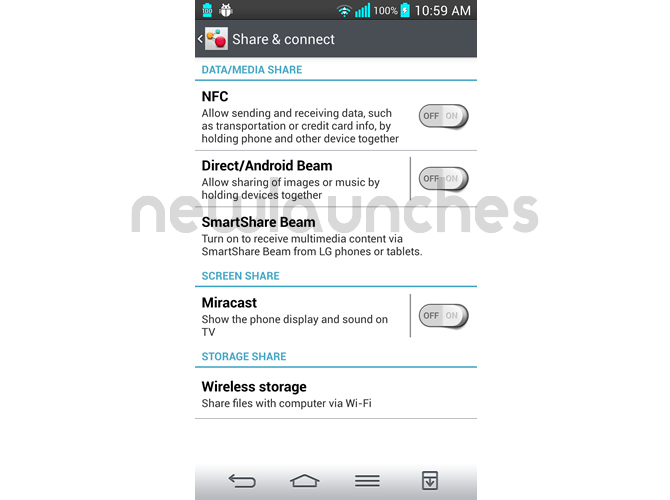 Connectivity options
The LG G2 has it all – Wi-Fi with all the trimmings from Wi-Fi direct to DLNA and Hot spot creation, USB with OTG and Host, Bluetooth 4.0 with LE and A2DP compatibility of course, NFC and Infra Red to be used with LG's very well designed QuickRemote app. GPS with GLONASS and A-GPS support minus any other mapping software other than Google's native offering is, as usual, part of the deal. If only manufacturers would offer better Navigation software like Nokia's Here Maps for Android devices, I think this feature too could be a real highlight. LG has also included a few apps like Life Square, Quick Translator, LG's SmartWorld for LG selected apps and a few more to help enhance the devices overall capabilities.

Camera
The camera is by far the G2's biggest asset. Not only does it capture great images with details appearing relatively quite sharp and colors staying as true to life as they can be, but the variety of features gone into this function make it a real winner in my book. A variety of shooting modes that include – Burst, Beauty shot. HDR, Panorama (VR as well) Dual Camera, Sports, Intelligent Auto, Time catch and Night shot all make for great photography. Also incorporated are the Cheese Shutter (speak to click), geo tagging, a few color modes and a timer. Take a look at some of the images captured by the G2's 13 megapixel camera.

The level of detail and color was impressive.

Manual focus gives you the control to choose where and on what you want to highlight.

Although this is very powerful camera, like most mobile handsets, don't expect Night shots to be without artefact or grain even if left on a timer and stand. The G2 however did a decent job.

Even low light performance was not bad at all.

Here's a real close up, click to see the full size image.
As I mentioned before, the Video player, capable of 1080p recording, also offers a few cool modes of its own. Audio Zoom lets you highlight one subject's voice amongst others so it's a little more audible than the rest. Live effects is another fun aspect allowing you to choose from a variety of preset facial toning expressions while you're shooting a video. The video camera also offers Dual recording whereby both cameras are live and functioning simultaneously.
The camera might not have all the elaborate 'high-end' type of attributes that I've seen in the Nokia 925 but there is no way to walk away from the G2 without saying it was a real blast to use.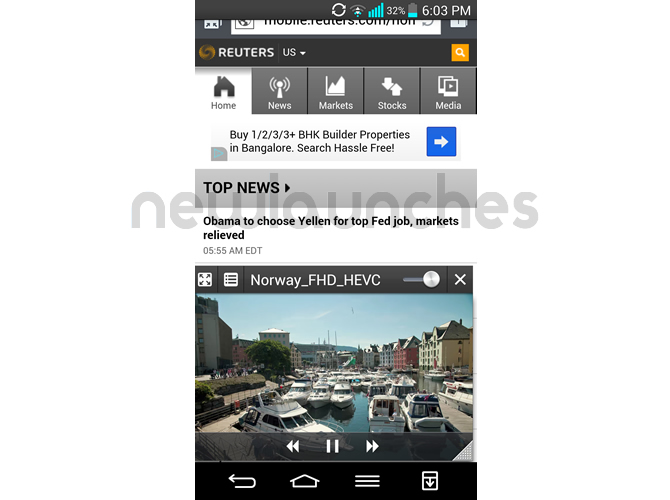 Battery Life
With a 3000 mAh battery under the chassis of the G2, you'll easily get over a day's use of the handset. It's a great phone in this respect and offered me over 34 hours of use with 3G and Wi-Fi connectivity being active all day, use of the camera (at least 30 pics), at least 2 hours of music playback, messages, calls, and even some streaming. There aren't too many handsets that offer you so much battery time, with so much use and the few that do are definitely the ones to take very seriously.

The Bottom Line
There is so much to love about the LG G2, so many additions to the UI in so many forms that it truly does revel in the term 'smart'-phone. The phone is light, bright (screen), has a great and fun to use camera, superb audio, is blazing fast etc. etc. But what's really disappointing is once again one has to pay so much money for a phone that doesn't feel, in the literal sense, like it's made of premium materials. That and the fact that there's no memory card support only makes you wonder where the money's going. But put those two aspects aside and you'll still end up with a handset that brings a lot to the table and is extremely fun to use. Returning the G2 post review is going to be really hard and heartbreaking.
Design and Ergonomics – 4/5
Features – 4.5/5
Connectivity Options – 4.5/5
Camera – 4.5/5
Media – 4.5/5
Overall – 4.5/5