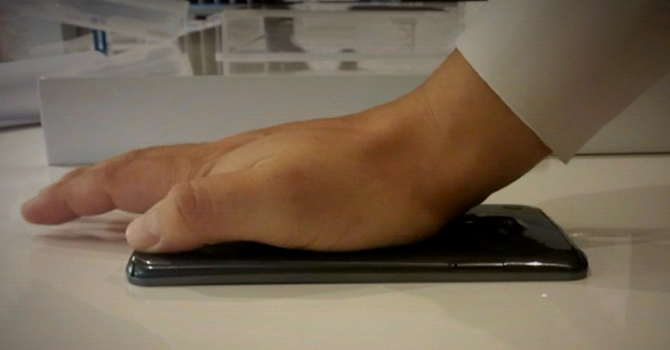 November 6, 2013
Simple test proves that LG's G Flex curved display really is flexible
by Shayne Rana
LG's answer to the Samsung Galaxy Round is the recently released G Flex that also touts a curved display design. My gripe with the whole 'flexible' display deal was that the glass and display were simply curved, that didn't quite mean it was actually bendable. Others thought the same and put the G Flex to the test to see if it actually lived up to it's name. Take a look at the video after the jump.


The G Flex was tested by placing it on a flat surface, display up and facing down and simple hand pressure was applied to see if the display would indeed bend to become parallel to the surface. It did. It proves that LG's display is very much flexible… up to a few millimeters at least. At least it won't feel to awkward in tight jeans and could give the phone a little leeway to adjust around the curve of your upper leg. Were it not able to do this, it might have made things a little uncomfortable if you were sitting with the handset in your pant pocket. Here's a quick recap of the G Flex's specs – 6 inch OLED display with a 720p resolution, a Snapdragon 800 processor clocked at 2.26GHz, 2GB of RAM, 32GB of on board memory (no expansion option) and a 13MP camera. Another interesting feature about the LG G Flex is the special reparable coating that's applied to the structure that has the ability to 'heal' scratches.
There's been no word on whether Samsung's curved smartphone can be manipulated in the same way or is just simply just one of the stiffer phones. But all said and done, I still expected to see a more sophisticated and truly flexible display, the kind that Samsung had spoken about, or indicated would seen this year. So far these devices seem simplistic and more gimmicky than an advance in display technology. But it could be a start.
[Via – Engadget]