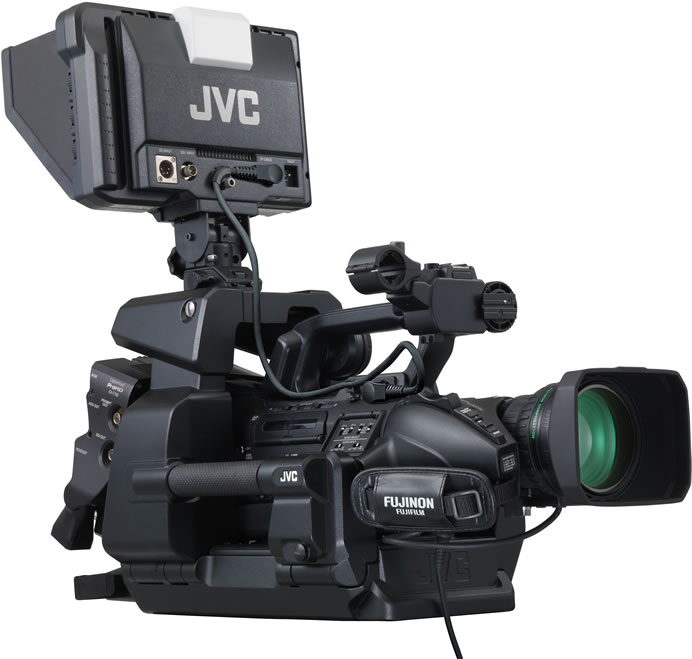 February 4, 2014
JVC unveils GY-HM890 and GY-HM850 ProHD shoulder-mount camcorders
by dhiram
JVC today introduced its new GY-HM890 and GY-HM850 ProHD shoulder-mount camcorders, which set a new benchmark in ENG camera IP integration. Both cameras feature three, 1/3-inch 2.07 effective megapixel CMOS sensors that capture full 1920×1080 images. The imagers provide 12-bit readout, F11 sensitivity (60Hz), and excellent signal-to-noise ratio. The new Fujinon wide angle 20x zoom lens features auto focus, built-in optical image stabilization, and chromatic aberration correction. The interchangeable 1/3-inch bayonet lens also includes manual focus, zoom, and iris rings.


The new 800 Series cameras significantly expand on the live HD streaming and file transfer capabilities introduced in the popular GY-HM650 mobile news camera. JVC's exclusive dual codec design allows the new cameras to transmit live HD footage or transfer files in the background while shooters continue to record footage in their normal workflow. When paired with a Verizon 4G LTE modem, which is connected directly to the camera via USB, the camera transmits footage to a broadcast facility in real time.

Dual SDHC/SDXC card slots allow simultaneous recording (for instant client copy/backup) or relay recording (for continuous shooting) to low cost, non-proprietary media. During simultaneous recording, one card can act as a continuous backup that overrides the pause function triggered by the operator. Relay recording allows virtually unlimited recording capability in the field. Including lens, the GY-HM850 has a suggested list price of $7,995, while the GY-HM890 has a suggested list price of $9,995. Both models will be available in March.