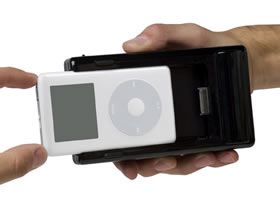 January 20, 2006
iSEE, Video Recorder For iPod
by Dhiram Shah
Advanced Technology Office, LLC (ATO) announced the iSee video recorder for iPod, the first and only portable media player that enables users to record video content directly onto most Apple; iPods; and then view it on a high-quality 3.6 inch LCD screen. The iSee video recorder for iPod extends the functionality of most Click Wheel iPods to include music, photos, video recording, storage and playback. With the iSee video recorder, iPod users will record and store their favorite shows and movies directly from TV, cable, satellite, DVR or any other analog source. In addition to viewing on the iSee, video files can be played back on any TV with an "analog in" connection at standard 640 X 480 TV resolution.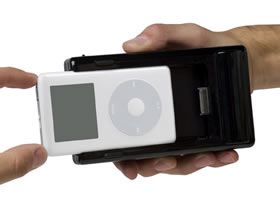 The iSee 360i works with most fourth generation iPods, including the 20GB Click Wheel, the 20GB U2 edition, and the iPod mini (adapter required). In addition, the iSee works with many fifth generation iPods including the 30GB iPod, iPod nano, (adapter required) and 30 GB iPod with video (adapter required).
Measuring 6 X 3.2 X 1.1 inches and weighing only 6 ounces, the iSee 360i offers a lightweight, portable design that when connected to an iPod provides the look and feel of a single, integrated unit. The iPod slides into place inside the back of the iSee video device providing the user with a 91% larger viewing area than the iPod with video without dramatically increasing the overall form factor.
The iSee 360i has an MSRP of $249 and will begin shipping in the first quarter of 2006.