1 comment
March 4, 2008
Insight Guru flags off 100+mpg car.
by yogesh

Mr. Dabrowski is referred to as the "Insight guru" for a system he has developed that can get as much as 100 miles per gallon from the Honda Insight, a hybrid electric automobile the company stopped making in 2006. The car had an EPA rating of 57 mpg. A system he developed and calls a Manual Integrated Motor Assist system, which allows the driver to control the automobile's gas-to-electric ratio to boost gasoline mileage an average 10 percent to 20 percent on Insights. He said about 60 Insights in the United States, England and Australia use the $750 system, and that there is a waiting list. Mr. Dabrowski also developed a fifth wheel — an electric wheel — that drops down from the car's trunk to generate electricity to run the car. That invention, which he does not sell, allows his car to run almost purely on electricity and can get 180 miles per gallon or more at slow speeds on flat roads. He doesn't expect the automobile industry to embrace total electric cars because of the financial impact of retooling an entire industry and the impact on the repair and maintenance business (electric cars need less) and all the related industries that electric cars don't need. Mr. Dabrowski is very much in evidence on the Internet in discussions and articles about hybrid electric vehicles at such Web sites as EVWorld.com, HOPE3.org (Hybrid Owners Preserving an Energy Efficient Economy), greencarcongress.com and batteryvehiclesociety.org, a United Kingdom Web site. He has been praised for thinking "outside the box" and referred to as an "Insight guru." He says he gets quite a few calls when gas hits $3 a gallon; they drop off when the price of gas drops back to $2.75. The calls have been consistent lately.

He has posted a lot of his insights online (his Web site is www.99mpg.com), and is very enthusiastic about the interest that his research may bring.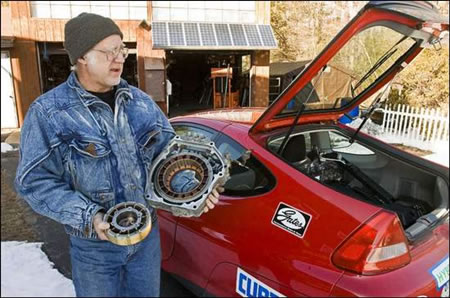 Source