July 9, 2013
HTC One Review – Elegant and refined but not yet perfect
by Shayne Rana
The HTC One is, at the moment enjoying some, not too much mind you, limelight as a popular, but expensive, high-end smartphone. In competition with the like of the Galaxy S4, Optimus, Optimus G Pro and Xperia Z, the playfield might be almost balanced in terms of specifications and under the hood components, but it's ultimately, the user experience that will determine the overall worth of the device. If you're looking at a new Android purchase and the HTC One was on your list, here's a quick look at all that is the One and hopefully it'll help you decide if it's worth your hard earned cash.


Let's start of with looks –

A very iPhone-ish like design, the HTC One is slim, simple and yet very elegant in the looks department. The all metal body is unfortunately it's Achilles Heel however as it makes the handset a little too slick and also doesn't quite help with dispersing the heat generated at the core. It tends to get rather hot when watching videos for too long or playing games and can be a bit of a problem to hold on to. That being said, the One is still one seriously solid handset with build quality being right up there with the best on the shelf.

The full HD (1080 x 1920) 4.7-inch display is a thing of beauty and while not as overly vibrant (or power saving) as an AMOLED, the Super LCD3 panel is as sharp as ever. Protected by Gorilla Glass 2, rest assured it's relatively well protected from a few scrapes and bruises that could be caused by falls, keys or other sharp items that might be in your pocket. At 143 grams it's not heavy at all but still has that weight factor that gives it a robust feel. A 2.1MP camera is placed just above the display and is capable of recording full HD video just like its 4MP UltraPixel counterpart at the rear. It even features image stabilisation for better video calling quality.

On the top of the handset you'll find a power button that doubles up as an IR sensor for remote control capabilities. The headphone jack is also placed at the top with the micro USB connector at the bottom. The volume rocker on the right side of the handset is well flushed into the body with just the slightest hint of elevation so it's easy to find when necessary. On the left is where you'll find the micro SIM card tray that, like the iPhone and so many others today, needs to be popped out using the little HTC key provided.

It's a remarkable piece of hardware but I recommend a case to give it better grip so it doesn't slip out of your hands or off any smooth surfaces.
Next up its P erformance –

The HTC One features a Qualcomm Snapdragon 600 (Krait) chipset with a Quad Core CPU that's been clocked in at 1.7 GHz. To help bolster graphics, an Adreno 320 GPU is also on board. All of this with 2GB of RAM. Working in sync, these components make for a great performance overall. Antutu scored this particular HTC One review unit at 22206, almost at par with other units and second only to the S4. While using this over the last week, there was no visible lag during regular functioning and menu and app access was also quite quick. Full HD video content played flawlessly and even the graphic heavy games looked and worked without a hitch.
In the Entertainment department –


With the genius of Dr. Dre and Jimmy Iovine, Beat's Audio Enhancement sound engine, music quality on the HTC one is superb. Although a might heavier on the higher tones, Beats brings home the bass and creates a full circle, well balanced audio experience. The music player's various features that include SoundHound connectivity and visualisation tools only enhance that experience. What I particularly liked is the accessibility to play music directly from folders.

Watching videos on the full HD supported display, together with Beats Audio and the added capabilities of multiple codec support for AVI files, makes the One all the more alluring. The formats it doesn't play are easily fixed with third party players like MPlayer or RockPlayer (free). Even the FM radio with RDS works like a charm.
Photoes, Videos and Zoe –


Although a bit of a marketing faux pas in my opinion, the 4 megapixel camera, UltraPixel tech not withstanding, performed just as well as any HTC mobile camera, in the high end segment. The UltraPixel refers to the incorporation of an advanced CMOS Sensor, ISP, and optical lens system that is designed to capture significantly more light than most 8 or 13 megapixel cameras. So don't let the count fool you. Using touch focus, you can adjust contrast and brightness in darker areas, use HDR for boosting features and play around with the many effects HTC is known for.

With features like Zoe and Sequence, I daresay, the HTC One can easily give the S4 a run for its money in the features department. Zoe captures a short video with 20 frames (1080 @30fps with corresponding images) and lets you select the frame you like best. Sequence lets you use the Multi-shot capture mode to stitch photos together to create an action sequence, exactly like the S4's Drama shot. There's also an Always Smile function to get everyone in the photo smiling just right. There's loads to love here. Object Removal works just like the Lumia 900's Smart Camera lens and does exactly what it says.

Video and image recording quality is great but not the very best for indoor use. With lower lighting things can get a little grainy as expected from a phone camera, but it's still not as bad as a few others.
Sense UI 5.0 –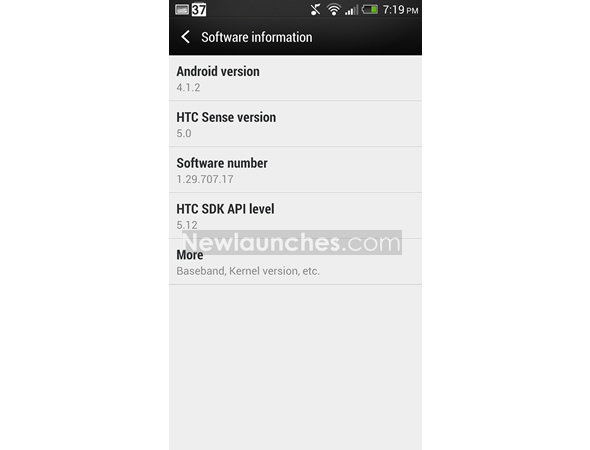 Like I said before, it all boils down to the user experience and driving that is the UI of a handset, be it a smartphone or otherwise. Sense UI has always held a special place in my heart and version 5.0, although adding on a just a few alteration to older editions, does have a lot to offer. HTC's BlinkFeed, to kick things off, is a simple new, RSS reader that might not seem as good as FlipBoard, but it still does a good job for a native function. It's great to get immediate update son what's going on so quickly. Sticking with the typical folder and menu layout options with a few tweaks does also make things familiar but slightly new.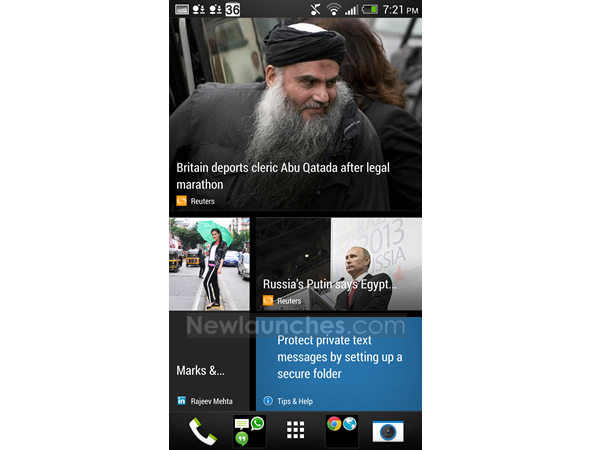 On a down side, what I was unable to find was the option to change UI themes. It seems to be set on a dark theme with dark background. Should you end us using bright wallpaper, the upper notification bar might not be seen to clearly. Unlike other Android launchers, customising this UI isn't all too easy either. The various notification options and lock screen widgets available also make access to frequently used features or quick viewing of files simple.
The 2300 mAh Battery –


I can't say it outlasted my own Nexus 4's 2100 mAh battery by too much, but I managed to squeeze a little over 24 hours of use with 3G and or WiFi coming into play constantly, emails, messaging, chats, and even an hour plus of calling thrown in. The catch is, this was all in Battery Saver mode. In regular mode however, it'll keep you going for at least 18 hours with pretty decent usage. That's not too bad. Heavy gaming, video watching or excessive 3G usage would however diminish this number considerably.
The Connectivity Angle –


It's got it all, from DLNA via WiFi (802.11 a/ac/b/g/n), WiFi Direct, Hot Spot creation to NFC, USB 2.0 that doubles up as an MHL connection as well and Bluetooth 4.0 (with A2DP naturally). HTC also offers a file transfer function via Bluetooth that's handy when switching handsets. GLONASS is on board to help make navigation via Google Maps or any other GPS based app work smoothly. Thanks to IR technology (thank goodness it's back in style) HTC's TV App lets you take control of your Television, STB (Set Top Box) and or Home Theatre and in some parts of the world, even acts as a TV Guide. Very handy!
And the Bottom Line is –


I love the HTC One. Its looks as smart as it is and functions in a way you'd expect a high end device to. The problem is, it don't come cheap. The HTC One is a bit on the pricey side and while you might not get the same silky smooth experience, there are slightly cheaper options available. But if you're an HTC fan and don't mind the heat (from the CPU going into overdrive), the One makes a great choice.
Design and Ergonomics – 4/5
Features – 4/5
Connectivity Options – 5/5
Camera – 4/5
Media – 4/5
Overall – 4/5